'Reflections of Light' Exhibition
Tuesday, 28 February 2017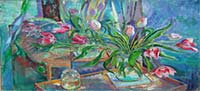 Weds 8 March - Sun 26 March
Artsmill, Hebden Bridge
Preview: Sunday 5 March.
11am - 4pm
Phyllis Hargreaves is a Rochdale artist working in, and taking inspiration from, Healey Dell Nature Reserve. Her studio is situated within the tranquil Spodden Valley. Following Art College and art teaching in Greater Manchester, she joined Healey Dell Workshop, and has been producing her own work for the past ten years.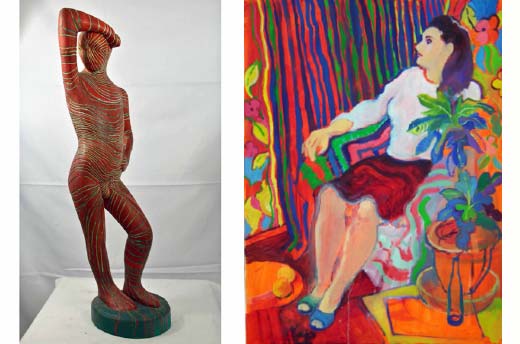 Speaking about her work, Phyllis Hargreaves has said, "Surrounded by nature in a peaceful setting, I sculpt in clay, metal and plaster, paint in oil, pastel and watercolour, also creating colourful mosaics. Still life and flowers are an inspiration when creating brightly coloured paintings, but I also like the use of light and shade to emphasize the movement of tall grasses and trees blowing in the wind.
"In my paintings of houses and gardens, I use strong contrasting colours to bring to life places I have seen, and some I have imagined. I like the challenges different medias provide, especially in the modeling of heads and figures of people and horses. I like to tell a story in my paintings with the use of light, reflection, movement, trees and buildings."