Calder Valley Search and Rescue hit 1000
Saturday, 4 March 2017
The Calder Valley Search and Rescue team was formed in 1966 and on Thursday, 2 March the team was out at Top Withens or Wuthering Heights for their 1000th incident.
Here's the details of incidents 999 and 1000:
Incident 999 Walshaw Farm
Tuesday 28th February 2017, 13:28
CVSRT received a request from Yorkshire Ambulance Service (YAS) to assist with the evacuation of an 80yo male suffering from chest pains. The gentleman was situated in a wooded area near Walshaw Farm.

When team members arrived on-scene, aircrew paramedics from Yorkshire Air Ambulance (YAA) were already in attendance and treating the casualty. The aircrew requested the team's assistance to quickly evacuate the casualty from the woodland to the helicopter for further assessment.

CVSRT members promptly rigged a single rope haul system to assist with the evacuation by stretcher up the slippery hillside to the helicopter. Following further assessment the casualty was then carried to the land ambulance for transfer to hospital.

At 14:35, team members returned to base, then onward to their places of work or homes.

In attendance: 14 CVSRT
Yorkshire Ambulance Service
Yorkshire Air Ambulance

Total Duration: 2hrs 42mins
Incident 1000 Top Withens, Haworth (Wuthering Heights)
Thursday 2nd March 2017, 15:41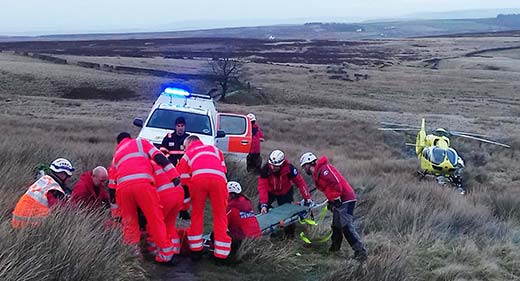 At 15:41, CVSRT received a request from Yorkshire Ambulance Service to assist crews with locating and evacuating a 68yo female who had sustained a lower leg injury whilst walking along The Pennine Way at Top Withens near Haworth.

CVSRT members were able to pinpoint the casualty using SARLOC and deployed to the location. The assistance of the Yorkshire Air Ambulance (YAA) was also requested.

Once the lady was packaged and comfortable, CVSRT members stretchered her to the helicopter for evacuation from the moors to the land ambulance situated on the road head. Team members then created a secondary landing site for the helicopter and then assisted with the transfer of the casualty to the land ambulance.

This callout was the 1000th incident milestone since the team formed in 1966, and coincidentally it was Yorkshire Air Ambulance Aircrew Paramedic, Sammy Wills 999th patient too.

In attendance: 14 CVSRT
Yorkshire Ambulance Service
Yorkshire Air Ambulance
Total Duration: 3hrs 19mins
See also
Calder Valley Search and Rescue website
Previous coverage of CVSR on the HebWeb