Shibden Hall is the new Sally Wainwright eight part drama series
Sunday, 5 March 2017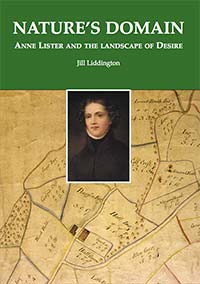 BBC One has commissioned Shibden Hall, a brand new eight part drama series created and written by BAFTA-winning Sally Wainwright (To Walk Invisible, Last Tango In Halifax, Happy Valley) and produced by Lookout Point for BBC One.
The first few episodes will be based on Nature's Domain by Mytholmroyd writer Jill Liddington, and published by Hebden Bridge publishers Pennine Pens.
Set in West Yorkshire in 1832, Shibden Hall is the epic story of the remarkable landowner, Anne Lister. Returning after years of exotic travel and social climbing, Anne determines to transform the fate of her faded ancestral home, Shibden Hall, in Halifax.
To do this, she must re-open her coal mines and marry well. But this isn't just another Regency romance. Charismatic, single-minded and swashbuckling Anne Lister - who walked like a man, dressed head-to-foot in black, and charmed her way into high society - has no intention of marrying a man. True to her own nature, she plans to marry a woman. And not just any woman: the woman Anne Lister marries must be seriously wealthy.
Every part of Anne's story is based in historical fact, recorded in the four million words of her diaries that contain the most intimate details of her life, once hidden in a secret code that is now broken.
Shibden Hall is a remarkable and unlikely love story, set in the complex, changing world of Halifax - the cradle of the industrial revolution - just as it's all kicking off. The drama will explore Anne Lister's relationships at home with her family, her servants, her tenants, and her industrial rivals, who will use any dirty tricks they can to bring her down. At its heart is her relationship with her would-be wife, the wealthy heiress Ann Walker. It has all the warmth, wit, humour and complexity that audiences have come to associate with Sally Wainwright's writing.
Creator, writer and director Sally Wainwright said, "Anne Lister is a gift to a dramatist. She is one of the most exuberant, thrilling and brilliant women in British history, and I can't wait to celebrate her. Landowner, industrialist, traveler, mountaineer, scholar, would-be brain surgeon and prolific diarist, Anne returns from years of travel to her ancestral home, Shibden Hall in West Yorkshire, determined to restore it to its former glory, and determined to marry Ann Walker. It's a beautifully rich, complex, surprising love story. To bring Anne Lister to life on screen for BBC One is the fulfillment of an ambition I've had for twenty years. I'm also delighted to be working with Faith Penhale again and the wonderful team at Lookout Point after our collaboration on To Walk Invisible."
Piers Wenger, Controller BBC Drama Commissioning, said, "The originality and ambition of the writing in Shibden Hall is Sally Wainwright at her boldest and best. In dramatising the life and loves of Anne Lister, Sally might just have found her most complex and uncompromising female character yet and I'm so proud that they will be making their home at the BBC One."
Faith Penhale, Lookout Point Executive Producer, said, "This is an extraordinary story about a remarkable woman. We're in early 19th Century Yorkshire and here is an independent, land-owning, industrialist recording in her diary her own civil partnership with a neighbouring heiress. I can't wait for Sally to bring Anne Lister, with all her wit and warmth and unpredictability, to life for BBC One. And it's a joy to be working together with Sally again after our wonderful collaboration on To Walk Invisible last year."
Shibden Hall has been commissioned by Charlotte Moore, Director of BBC Content, and Piers Wenger, Controller BBC Drama Commissioning. The 8x60' series will be directed by Sally Wainwright and produced by Lookout Point for BBC One.
Executive Producers are Sally Wainwright, Faith Penhale for Lookout Point and Piers Wenger for BBC One.
The series will start filming in Yorkshire next year.
See also
Guardian - Sally Wainwright to write show about diarist Anne Lister for BBC (Nov 2016)
Guardian article: writer-director Sally Wainwright on her love of Calderdale and her appreciation Jill Liddinton's writings on Anne Lister (July 2015)