Update: See photos
The Heptonstall Pace Egg raised £955.36 for the charity this year, which is pretty good for a very damp day.
Donation to: 1st Heptonstall Guides. £477.68 for camping equipment.
Donation to: Together We Grow. £477.68 aid for displaced Syrian war victims.
A big thanks to our audience for turning out on such a very wet day and for their generosity donations.
David Burnop
Heptonstall Pace Eggers
2017 Pace Egg Play - Heptonstall Players
Saturday, 1 April 2017
Once again, the Heptonstall Players will be performing their unique version of the Heptonstall Play this Good Friday 14 April) in Weavers' Square, Heptonstall.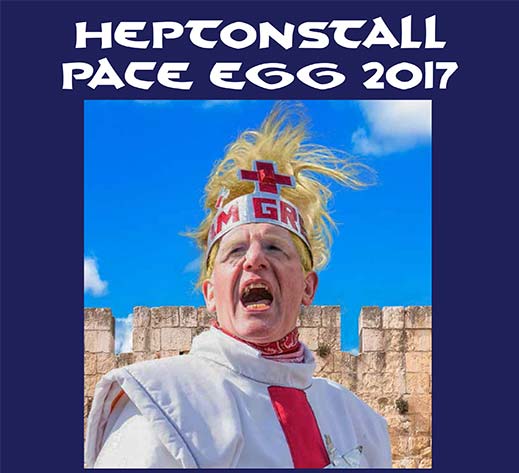 Download poster - pdf
Please avoid bringing your horseless carriage, parking is very limited.
The Hillmillies as always will be dancing between performances.
This year we will be collecting for the: 1st Heptonstall Guides and the Together We Grow charity, sending trucks of aid supplies to Syria
Performance times are as follows in Weaver's Square:
11.15 am Heptonstall Pace Egg
12.30 pm Heptonstall Pace Egg
2.00 pm Heptonstall Pace Egg
3.00pm Midgley Pace Egg (Calder High Players)
4.00pm Heptonstall Pace Egg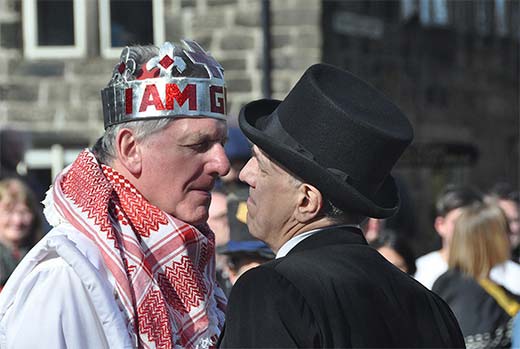 On the occasion of this year's Heptonstall Pace Egg Play, this reporter was talking to Saint George. He said this:
"I'm not a politician here, and this is going to run. You know Good Friday? You know the Good Friday up in Heptonstall? It's great, it's going to be great, it'll be a great day.
But you know, there are people, yes there are, there people who arrive. People come to Heptonstall on Good Friday, a lot of people come, talking people, people who talk. They get wrong. And that's not great, no it's not. And you know why it's not great?
Well I'm going to tell you. It's not great because the good people who are there, they are there, yes they are. What we're going to do is, we're going to build a wall, yes we are, a wall to keep out the wrong people, they are wrong. Yes and we are going to make Halifax pay for it, they take our taxes so they're going to pay for the wall..."
It was at this point two men in white coats arrived, apologised profusely, and escorted Saint George away in a medium sized van...
By Andy Carter, Heptsontall Players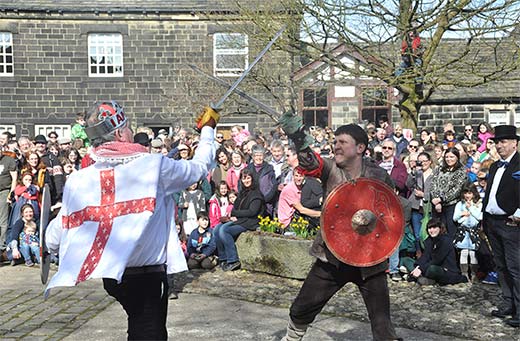 See also:
HebWeb Feature on the Pace Egg plays with photos from previous years, background, news items, audio and video clips
Photo Gallery 2016
HebWeb News: Pace Egg play 2016
Photo Gallery - 2015
Photo Gallery - 2014