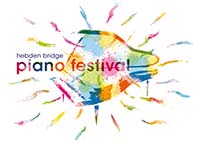 Piano Festival's events for families and children
Tuesday, 4 April 2017
Hebden Bridge Piano Festival is nearly here and as usual the line-up includes lots of events which are suitable for children and families.
This year's children's concert is Saint-Saens' The Carnival of the Animals, performed by the Willshire Piano Duo on Sunday April 23rd at 10am. The wonderful pieces that make up Carnival will be interspersed with humorous and quirky poems from Ogden Nash's poem of the same name read by Hebden Bridge actor Alexandra Mathie, pictured right, who was until very recently appearing in Amadeus at the National Theatre.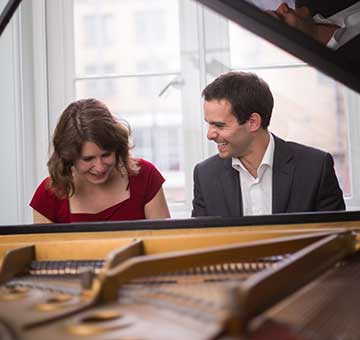 Carnival's 14 small movements introduce the listener to a different animal, or group of animals, mimicking their voices or the way they move. From the roaring lion to the elephant, the tortoise, a conversation between two braying donkeys, or the magical sound of an aquarium, Saint-Saëns innovatively brings these animals to life. The poems complement the music, gently poking fun at the different animal characteristics.
Other concerts that are suitable for everyone include Festival Director David Nelson's own contribution, A Pianist's History of 20th Century Music on Saturday 22nd at 9.30am when, along with some of his piano-playing friends, he'll explore and perform music by some favourite composers of that period, in a lighthearted and entertaining way.
Free concerts
Each evening there's a free concert in the Town Hall café and these are suitable for all ages. There's jazz piano on Friday and Sunday evenings at 6.30pm. And on Saturday 22nd  there's a hands-on event with the Robotic Piano presented by Hebden Bridge company Noisy Toys, when anyone can have a go at making crazy music using various electronic controllers.
Festival starts: 21 April
The Piano Festival starts on Friday April 21st and features an international line-up, with pianists from Portugal, America, Switzerland, Romania, Canada, Jordan and Scotland performing over the weekend. Headline artists include the 1991 Leeds International Piano Competition winner Artur Pizarro, internationally acclaimed young virtuoso Alexandra Dariescu, Israeli-American pianist David Greilsammer, Chetham's School of Music's Head of Keyboard Murray McLachlan and the New York-based jazz legend Marc Cary.
The full programme can be seen online or in the brochures which are available from lots of outlets around town and with 50% of events being either free or £10 and under, cost needn't be a factor.
Tickets for all events are for sale online the Piano Festival website and at the Festival box office at Hebden Bridge Town Hall which is open Monday to Friday between 10 and 4.30 right up to the Festival weekend.