Monday, 17 April 2017
Handmade Parade Help You Make Giant Puppets
Thanks to Kathleen McGrath for this item
Handmade Parade lead artists Andrew Kim and Kerith Ogden will teach this introduction to giant puppet making in advance of Hebden Bridge Handmade Parade.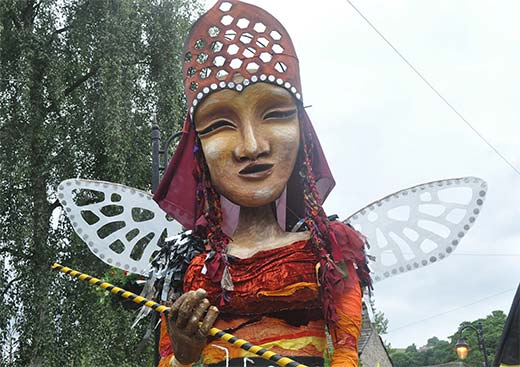 This course will cover all the basic techniques used in two different types of giant puppet building. Participants can take one, two or all three sessions.
Puppets will be made working in teams with other participants and puppets will be used in the Hebden Bridge Handmade Parade on 25 June, 2017. This course is made possible at this subsidised price with the support of Arts Council England's Grants for the Arts and Calderdale Community Foundation 

All session are 10am-3pm at the Handmade Parade workshop (Unit 5 Victoria Works, Victoria Road, Hebden Bridge HX7 8LN). 

Session One: Clay-Sculpted, Papier Mâché Heads with Andrew Kim
May 9, 10 and 11, 10am-3pm
Cost: £180

Andrew will demonstrate his techniques of giant puppet design, armature building, clay sculpting, building with papier mâché and basic rigging. Participants will work as a team to build a set of giant puppet heads. Session three participants will build bodies onto these heads. 

Session Two: Giant Withy Sculptures with Kerith Ogden
May 16, 17 and 18, 10am-3pm
Cost: £180

Kerith will teach participants the design and building techniques needed to make a lightweight giant puppet out of withies, bamboo, and other materials. We'll cover basic building techniques, paper and fabric scrimming, decorative techniques, and basic rigging and performance. The participants will work as a team to create a set of puppets from start to finish.

Session Three: Giant Puppet Structures And Movement
May 24 and 25, 10am-3pm
Cost: £120

From Handmade Parade and Thingumajig Theatre's stock of giants, Andrew will show examples of different types of giant puppet bodies. Participants will be able to try different styles of rigging and controls and then begin structures for the heads created in the session one workshops. 

You are able to book individual sessions but participants who sign up for 2 or 3 sessions will receive 10% off the total cost. 

Places are very limited so are offered on a first come first served basis.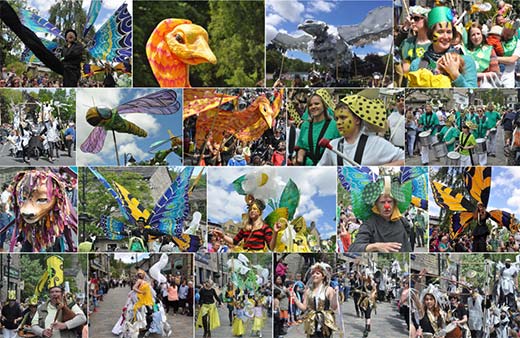 To Book:
Please email info@handmadeparade.co.uk with your contact details and session preference. We will be in contact to confirm your booking by end April.

About the Artists:
Andrew Kim
Handmade Parade founder and artistic director Andrew has created puppet and mask plays, parades and pageants for over 25 years. He is the co-director of Thingumajig Theatre which creates and tours puppet plays and interactive giant puppets. His puppets have performed throughout the UK and Ireland, France, Germany, Italy, Denmark, Poland, Luxembourg, Hungary, UAE, USA, Canada, Korea, Taiwan and China.  

Kerith Ogden
Kerith is an all-round maker, workshop facilitator and illustrator, who has been one of the lead artists at Handmade Parade since its inception. She has over 20 years' experience, and over the years has specialised in making large-scale puppets, lanterns, structures and costumes for parades and events, Her work has been seen throughout the UK and Europe.
This year's parade is on Sunday 25 June 2017. Find out more here.