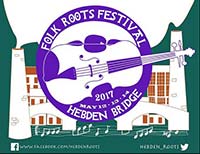 Folk Roots Festival - interview with Dave Boardman
Thursday, 20 April 2017
Find out more about what is happening at Hebden Folk Roots Festival on 12-14 May from this interview with Music director, Dave Boardman.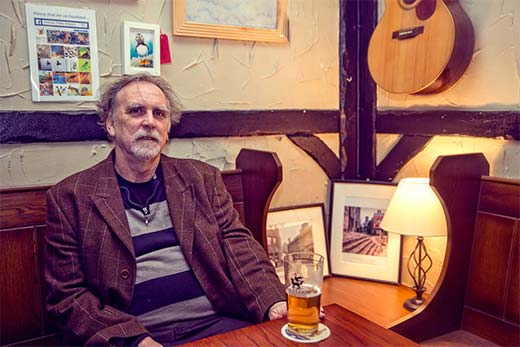 Tell who is playing at the festival and why you have hand picked these particular acts this year?
O Hooley and Tidow. Belinda O Hooley has been well known in Hebden Bridge for a long time. She organised lesbian cabarets at the Trades Club and was part of Rachel Unthank and the Winterset when it was a four woman unique folk group. With her partner Heidi Tidow they have taken the folk world by storm with heartfelt songwriting and very funny interludes between songs. O Hooley and Tidow were nominated for the BBC folk awards this year - and we are developing a reputation for booking acts just before they get nominated!
Celtarabia and The Baghdaddies are part of our world music strand. They have both sold out Trades Club shows over many years. In fact The Baghdaddies were the first band I booked when I started running the Trades Club music programme many years ago. They are still going strong - I saw them at Boomtown Festival last August.
Last year we had a very successful Bluegrass and Americana session. This year we have developed it further, moved it to the Trades Club and broadened it out. Top of the bill this time is a western swing band Rob Heron and The Teapad Orchestra who will have the place reeling and jiving.
Another extra we have this time is the klezmer day at Birchcliffe. Headed by Chancery Blame and the Gadjo Band. Klezmer is that jewish-gypsy music that you can't avoid dancing to. Of course we have some old favourites in the folk world: Plumhall will be back, as will the fantastic Jess Morgan with her band and Bradford's Bella Gaffney - don't be surprised if she gets a BBC folk nomination soon.
Some of the older near legends will be with us too - former Lindisfarne bass player and Jack The Lad leader, Rod Clements will be here, as will Clive Gregson, one of the country's great songwriters. And to show we are not one of England's insular anti Europe towns we will welcome Flossie malaviale, a French chanteuse who is a major part of the UK folk scene since relocating to the North East several years ago.
What do you love about doing the Hebden folk roots festival? why is it different to other festivals?
It is 'very Hebden Bridge' as the local signs will say. This is not a folk festival it is a festival of what is at the heart of music and it shows an appreciation of global music and culture. That is why we have influences form around the world here whether it is celtic, north African, middle eastern, pan European or North American, Hebden Bridge just loves its music
Who are you looking forward to seeing?
I will be at the Birchcliffe centre all weekend and I look forward to seeing everyone there… however at a festival there is always so much you will miss and I'm afraid I will be at the Birchcliffe when Celtarabia & Rob Heron will be at Trades - so I'll have to catch them at other festivals this summer
How do you see the future of folk going forwards?
My attitude to folk music is that it is music that comes from people and their stories anywhere in the world. Globalisation has been an economic disaster because it is driven by money. At the same time access to music form people across the world has help bring us together and I hope that music and shared culture will continue to be an antidote to the 'crimes' of the global economic elite

Get your tickets for the Hebden Folk Roots here: www.hebdenfolkroots.org