Wainsgate concert: idiosyncratic Manchester trio The Magic Beans
Monday, 15 May 2017
The Wainsgate Chapel concert series celebrates its 10th anniversary this year with another varied and imaginative programme of music and spoken word events. Folk, roots, and jazz are all featured in the music programme as well as electronic, avant-garde and multimedia concerts alongside performance poetry and readings by ground-breaking women writers.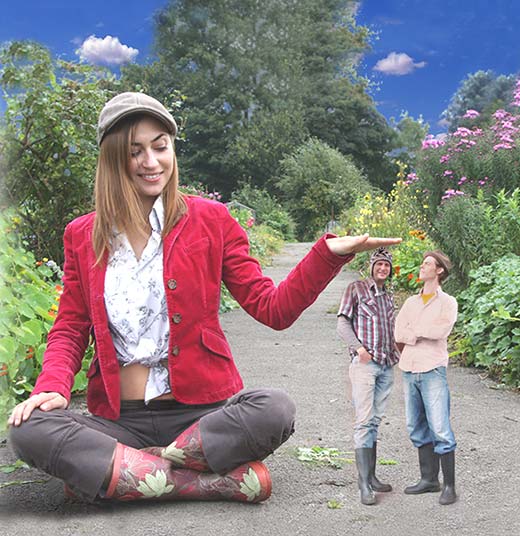 The 2017 season
The 2017 season kicks off on Sunday May 21st with acoustic music from the delightfully idiosyncratic Manchester trio The Magic Beans which features singer/songwriter Zoe Kyoti alongside bassist Matt Owens and acoustic guitarist Uli Elbracht.
The Magic Beans
With a track record for being intensely intimate and yet seriously fun-filled, allotment-swing-acoustic trio The Magic Beans have an ear for a quirky cover and the imagination to take it in a completely new direction. Their rootsy originals draw influence from folk, jazz and world music traditions and sit comfortably alongside the eclectic songs that they cover and their unique way of reimagining them.
Zoe Kyoti
Zoe Kyoti is no stranger to Wainsgate having given a memorable solo performance there last year to promote her new CD Wishbone. Her influences stem in part from her Anglo-Austrian-Greek-Armenian heritage and within her bittersweet unique brand of folk, there lies the spice of exotic far-flung places and the roots of jazz, country and blues.
Matt Owens
Bassist, composer, arranger and producer Matt Owens is a long-time collaborator with singer/songwriter Kirsty Almeida, and has also worked with such luminaries as Aim, Soweto Kinch, Jay Phelps and Bobby Wellins. He has performed in Hebden Bridge on many occasions, including with Baked a la Ska, for whom he has produced 4 albums.
Uli Elbracht

German-born guitarist and composer Uli Elbracht is also a member of the European Union Quartet and as a freelancer has worked with some of the most highly respected musicians both in the UK and Europe. He has been a music lecturer at Leeds College of Music since 2003.
Times and prices
The Magic Beans' concert starts at 3pm and tickets, which are only available at the door, cost £10 and £8 with a special £3 rate for under 18s.
Coming soon
Up and coming concerts in the series include the concert debut of the Charlie Carr Quartet on June 18th, and two Hebden Bridge Arts Festival events: Superwomen of Science with avant-garde singer Frances Lynch, and To Love Somebody Melancholy, a new project by Minute Taker, aka experimental singer/songwriter Ben McGarvey. There's more information about all events and how to get to Wainsgate at www.wainsgate.co.uk.