Calderdale Green Party launches General Election campaign in Calder Valley
Tuesday, 16 May 2017
Kieran Turner from Todmorden is Calderdale Green Party's Parliamentary candidate for Calder Valley. A humanitarian aid worker for 20 years, Kieran now works at Bradford University supporting student democracy and welfare campaigns.
Kieran stands for:
A one-planet economy, tackling both climate change and child poverty while providing secure, living wage jobs.
Renationalising key public services like the NHS and railways. As a rich society, we can and must fund these adequately.
The EU as peacekeeper. Once the Brexit deal is clear, the public must have the final say that includes the choice to stay in the EU.
Restoring public trust in politics. In 2015 more Calder Valley people didn't vote, than voted for the MP.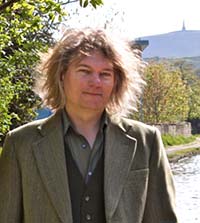 Kieran said, "The Green Party has the honest, ethical approach that is desperately wanted by many people – people who currently feel deeply disconnected from politics.
"I hope people will share with me their views and thoughts about how to build a society that works for the common good, for both people and planet. This campaign is an opportunity for a real, open public conversation.
"To restore democracy by bringing about fair elections, Greens support an immediate move to proportional representation - while keeping the constituency link. Talk of sovereignty and 'taking back control' is meaningless when most of the public is not represented at all in Westminster.
"There is a clear need to do politics differently and better and this is my aim."
Turning Calderdale Green
Kieran's campaign will highlight the importance of the Green Party's local manifesto, Turning Calderdale Green.
This has three key aims:
Safe Climate and Environment
A Fair Shares, One Planet Economy
Decent Public Services
Over the last two years, Calderdale Green Party has publicly stood up for specific local measures to achieve these goals. they want an MP who will help legislate and budget at the national level to support them.
Safe Climate and Environment
They have called for:
Recognition of the role of climate change in flooding and the need for Calderdale Council to make climate change reduction central to all its policies - including the new Calderdale Local Plan.
Natural flood management measures, and for a dedicated Calderdale Council Officer to carry them out.
A ban on driven grouse shooting in order to stop destructive land management practices associated that destroy biodiversity and increase flood risk.
Challenging UK government breaches of EU Natura 2000 habitat and wildlife conservation rules on Walshaw Moor Estate.
A coherent transport policy for Calderdale that prioritises walking, cycling and public transport, provides full disability access and reduces air pollution.
The need for Calderdale Council to adopt a zero waste policy and act on it - instead of supporting increased waste incineration via its new, outsourced waste management contract.
A Green shape to Hebden Royd and Todmorden Neighbourhood Plans.
A frack free planet, with Councils, banks and companies divesting from fossil fuel industries and support for Caroline Lucas's "kick fossil fuels out of politics" petition.
An end to public subsidies for coal and biomass electricity generation - particularly at Drax. Large scale biomass - far from reducing carbon emissions - is dirtier than coal and also destroys forests in the USA to provide the wood pellets.
Support for green building methods for increased health as well as climate change reduction.
Nuclear disarmament. Nuclear weapons, along with climate change, are the ultimate threat to the environment.
Kieran said, "The US-sourced Trident nuclear system must go. It doesn't serve any useful defence purpose and its incredible £3.6 billion/ year cost would be better spent on public services - our NHS in particular."
A fair shares, one planet economy
Green Todmorden Town Councillors support Community Benefit Society schemes like turning the sadly defunct Todmorden College into Todmorden Learning Centre for sustainable building, energy and farming methods for the future; and building a Strawbale Hotel in Todmorden Town Centre.
the Green Party has consistently challenged the "austerity lie", lobbied Calderdale Council in 2016 and 2017 about its cuts budgets and have proposed alternatives.
They are starting to develop proposals for what a fair shares, one-planet economy in Calderdale could look like.
Good public services
Alongside cross party/no party local campaigns, Calderdale Green Party has campaigned tirelessly to reclaim the NHS and social care from cuts and privatisation.
They have generated support for the NHS Reinstatement Bill that would restore the NHS to full public ownership, management and provision; argued in meetings with NHS commissioners to keep both Halifax and Huddersfield A&Es open.
They've taken part in vocal public campaigns to stop the cuts-driven Sustainability and Transformation Plan that is set to cut £1bn from NHS and social care spending in West Yorkshire and Harrogate by 2020/21 - with Calderdale's share of these cuts amounting to £79m; supported the service users' campaign to keep Calderdale Arts Psychotherapy Service open in the face of its threatened closure; and supported the Junior Doctors' strike on the community picket at Calderdale Royal Hospital
The Green Party stands up for restoration of schools to local authority, democratically accountable control and against forced academies, primary school SATs and cuts to schools budgets