Calder Valley Green Parliamentary candidate calls for clean air action
Wednesday, 31 May 2017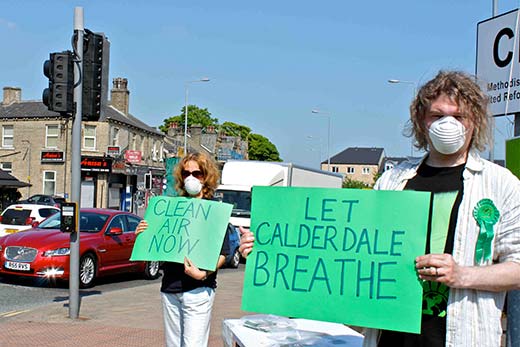 Calder Valley Green Parliamentary Candidate Kieran Turner donned a face mask at the Leeds Road crossroads in Hipperholme to draw attention to the air pollution hot spot, where levels of nitrogen oxides and particulates break the law.
Such air pollution endangers people's health through causing breathing and heart problems. Recently traffic air pollution has also been identified as a possible cause of dementia.
Hipperholme is one of seven such areas in Calderdale with illegally high levels of traffic air pollution.
It was easy to see why, as the crossroads were rammed with traffic for the hour that Kieran and other Calderdale Green Party members were there, together with numerous school students who were walking along the fume-laden road and waiting at the lights to cross.
Holding placards saying "Reopen the local station", "Let Calderdale Breathe" and "Clean Air Now", Kieran and Green Party members handed out leaflets to passers by about Calderdale Green Party's campaign to cut air pollution.
Some passers by spoke of the need for safe cycle paths separated from vehicles and many were well aware of the illegal levels of air pollution in Hipperholme. Some younger pedestrians were surprised to hear that air pollution was so high and asked about its effects on health and what can be done to reduce it.
Responses to the Green Party's Calderdale Air Pollution survey and a public meeting in Hipperholme in March have identified solutions that include ways of reducing road traffic and ways of reducing pollution from road traffic.
Kieran Turner said, "Hipperholme desperately needs its railway station back. Air pollution is at illegal levels."
Elaine Hey, who stood as the Green Party candidate in the recent Hipperholme and Lightcliffe Calderdale Council by-election, said, "Low Moor station in Bradford recently re-opened and there's no reason why Hipperholme station can't reopen too. Look at the volume of traffic from all four directions at the crossroads. Drivers don't want to be stuck in their cars on a road like this. Reopening the station would mean people could get off the roads and onto the trains."
Campaigns officer Jenny Shepherd said, "This is something we're going to be working on well after the General Election is over."
"Calderdale Council is responsible for enforcing air pollution laws and has to follow Government guidance on pollution control when they draw up their development plans and make decisions on individual planning and environmental permit applications.
"We shall be lobbying the Council to make sure it does this, and proposing practical measures to improve air quality in Hipperholme and other pollution hot spots."