Flood Walls on Hebden Water: Express your views
Friday, 30 June 2017
The Environment Agency exhibition held in the Town Hall on 27 June displayed its plans for flood defences on Hebden Water. Attempts were made to reconcile the aesthetic and use value of the Hebden Water and its Wavy Steps with the need to build some defensive walls to protect the town.
By using some glass walls on the Old Gate side and self raising Flood Barriers behind the Wavy Steps, the Environment Agency have come up with some interesting ideas.
Now they want more resident reaction to the draft design. This can be done:

a) Online here  

b) By email. after you have seen the full display in Mytholmroyd information centre or the part of the display that remains in the Hebden Bridge Town Hall. This sketches the options for Hebden Water, the Wavy Steps and Old Gate which and will continue to be on display in the Town Hall until 25 July, the last date for consultation.  Do take this opportunity to shape the future of the centre of the town.

c) By leaving responses in writing at Hebden Bridge Town Hall.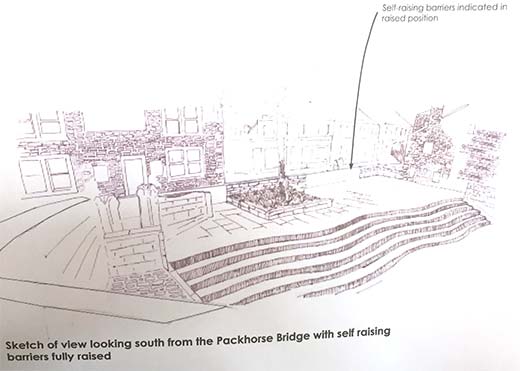 The exhibition of plans to reduce flood risk in Hebden Bridge has been moved to other locations to give people time to have their say following its launch at a drop-in event last week.

The display, which includes architects drawings, photographs and an explanation of various options considered, will now move to Mytholmroyd Flood Centre with a smaller version remaining at Hebden Bridge Town Hall.

Staff will be on hand at Mytholmroyd Flood Information Centre to listen to any concerns and talk through the proposals for the town's flood alleviation scheme, which will improve the protection for up to 500 homes and businesses. The centre which is located on the Community Centre car park is open Mondays and Fridays 10am-4pm and Wednesdays 1pm until 7pm.
The public consultation will be open for four weeks until Tuesday 25th July. Feedback from the consultation will be considered when finalising plans for the flood alleviation scheme.
The plans were launched at an event at Hebden Bridge Town Hall on Tuesday 27 June where representatives from Environment Agency and partners including Calderdale Council, Canal and Rivers Trust, Yorkshire Water, National Trust and Slow the Flow Calderdale, talked to over 100 visitors about what they are doing to reduce flood risk in the Calder Valley.

Environment Agency Flood Risk Manager Adrian Gill said, "We are really keen to get as much feedback as possible from local people on our proposals to help us deliver the best possible solutions for their community. If you would like to talk about flood protection or our plans then do drop into our local flood information centre."
The plans will also be available online here

If you have any questions or to give feedback you can email.
To find out more and have your say online visit www.eyeoncalderdale.com and www.slowtheflow.net.