Nathan joins the battle to reduce flooding
Monday, 3 July 2017
A very special team member will be sharing the load with volunteers in their battle to prevent flooding in the Calder Valley next weekend – a very large working horse called 'Nathan'.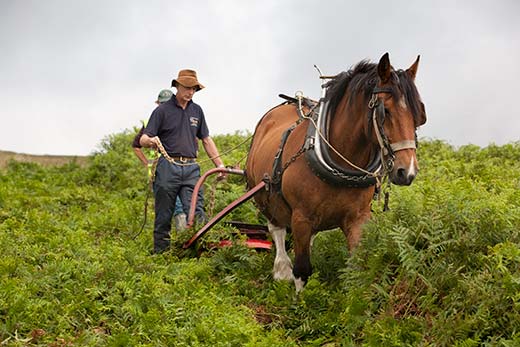 This huge animal will be used during the morning of Sunday 9 July to move very large trees as part of a natural flood management project at Hardcastle Crags working alongside a team of up to 30 volunteers from 'Slow The Flow Calderdale' environmental charity.
Nathan has been funded for the day through the Heritage Lottery Fund and will be working hard in the woodland to continue gully stuffing and building leaky dams to slow the flow of water down the valley which helps reduce the risk of flooding in Hebden Bridge, Mytholmroyd and onwards towards Brighouse.
Working horses have been used for thousands of years in industry to help move heavy objects. More recently the horses have been used in coal mining, to deliver beer, pull trams and carriages and move narrow boats around the canals of Europe. Now Slow The Flow Calderdale have the use of 'Nathan' to prepare the materials required to continue this important work.
Adrian Horton, Slow The Flow volunteer coordinator, said, "We are delighted that this tradition is now being extended to the work at Hardcastle Crags and we are very grateful for the loan of Nathan as it will be a huge help to us when delivering our flood alleviation measures."
"As work progresses at Hardcastle Crags, we need more volunteers to build leaky dams and for gully stuffing on the tributaries. The work is fairly demanding at times but great fun and you will meet many like-minded people who want to make a tangible, practical and significant difference to flood risk in the Calder Valley. "
Simon Stokes, natural flood management lead (Calderdale) for the Environment Agency, said, "Slow the Flow volunteers have worked tirelessly since the 2015 floods on projects such as promoting sustainable drainage systems in our community and monitoring river levels across Calderdale.
"We welcome the chance to work in partnership with group and the National Trust. They have made a significant contribution to flood alleviation through identifying and developing natural flood management projects throughout the River Calder area.
This work at Hardcastle Crags is also part of the Calder Valley Catchment Plan which was created in partnership with the local community to identify opportunities to reduce flood risk on a catchment scale."
Cllr Barry Collins, Calderdale Council's Cabinet Member for Regeneration and Economic Development, said, "Using natural methods to slow water runoff is one of the ways that the Council is working to reduce the risk of flooding in Calderdale. Our newly appointed natural flood management specialist is working closely with other organisations and the local community to develop exciting natural projects, and the work at Hardcastle Crags is one example of this. We really appreciate the commitment, enthusiasm and valuable contribution of local volunteers in supporting this important work." 
Teams of Slow the Flow volunteers are working two days each month leading up to Christmas. More volunteers of all ages and fitness levels are needed to join them as they have many tasks to do. They would be asked to volunteer around eight hours a month. For more details and to register to volunteer email: secretary@slowtheflow.net
For more information, visit Slow The Flow Calderdale on Facebook or visit the website.