Overgate Hospice Van Destroyed after suspected Arson Attack
Tuesday, 4 July 2017
Buildings have been evacuated following a suspected arson attack in the early hours Monday morning in which an Overgate Hospice charity shop suffered extensive damage. Firefighters from Mytholmroyd Fire Station were called to the incident at 3.17am where a skip fire on Valley Road, Hebden Bridge caused smoke damage to the Overgate Hospice furniture and vintage shop and destroying their van.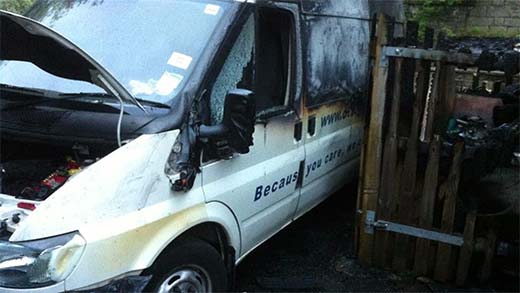 The skip was situated in a fenced area alongside other bins belonging to both the charity chop and the neighbouring garage. The hospice van, which was parked alongside the fenced area, is extensively damaged and has been written off. The van was used daily for furniture collections and deliveries and was also used to support fundraising events hosted by the hospice, including the Colour Run which is due to take place on Saturday. The outside wall of the shop itself is also smoke damaged and all nearby premises have been evacuated due to the melting of a gas pipe at the rear of the fenced refuse area. The gas supply has been cut off as a precaution and the shop will remain closed until the gas is reconnected and the damage is fully assessed. 

Tracey Broadbent, Head of Retail at Overgate Hospice, said; "We are extremely disappointed. However our team in Hebden Bridge are working hard to assess the damage and are hoping to have the shop open again soon. 
"As we are without a van any furniture collections and deliveries will need to be rearranged and we ask that you please bear with whilst we make alternative arrangements. "This will obviously affect our income and we are in the process of looking for a replacement van to support our shop and the upcoming Colour Run this weekend." 
Although the cause of the fire is yet to be officially established, authorities are treating the incident as suspected arson and will be investigating further. As a result anyone who saw anyone suspicious in the area should contact Calderdale Valley CID on 101 quoting crime reference number 13170302500.
Information can also be passed on anonymously through Crimestoppers on 0800 555 111.

The Hospice have launched an appeal to secure funds towards a replacement van.  Further information can be found here, where you can make a donation to the Hospice Van Appeal