South Pennines' Walk and Ride Festival 2017
Wednesday, 12 July 2017
9-24 September 2017
The South Pennines is the perfect place to enjoy the great outdoors, from the unspoilt beauty of the moorlands to the fascinating heritage of the industrial revolution, there's so much choice, for families, cyclists, horse riders and walkers.
130+ events
"Sometimes it's difficult to know where to begin," explained Adele Adams, festival co-ordinator. "That's why the South Pennines' Walk and Ride Festival is the best place to start. With over 130 events taking place between Saturday, September 9th and Sunday, September 24th, you will find an event for you; in fact you may find many.
"Look out for our brochure in visitor centres, libraries, shops and many other places throughout the South Pennines for more details or visit the festival website."
Cycling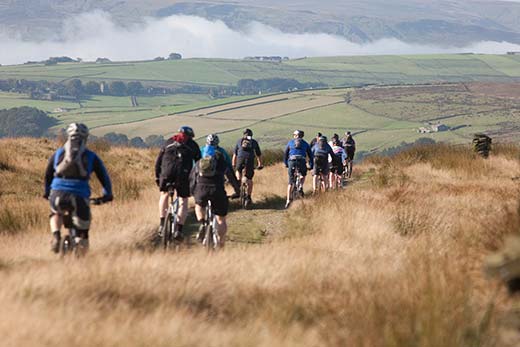 "Cyclists can learn new skills on the Get Dirty MTB half-day course designed to build confidence for those new to off road biking, or they can learn how to lead or supervise cycle rides during a full day of theory and practical training. For those cyclists wishing to just cycle there's so many different rides to choose from; there's the Holme Valley MTB Challenge, with three routes of varying difficulties and duration, or a more moderate cycle in Shibden Valley, or even the challenging 47-mile Mary Towneley Loop Endurance ride," Adele added.
Walkers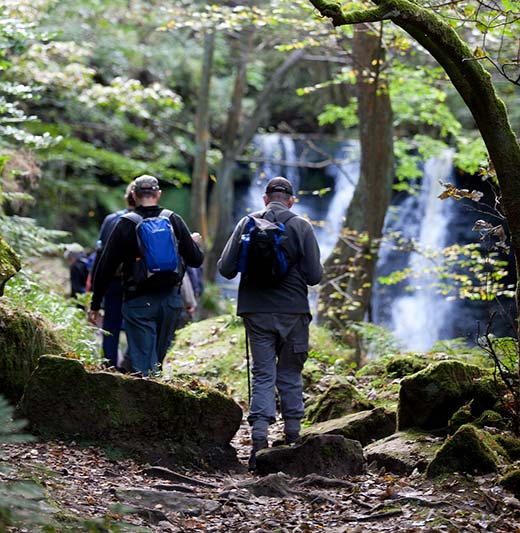 Walkers also have an array of events from which to choose, from gently health walks to strenuous hikes. Why not explore the Calder Woodland Way, as featured in Christopher Goddard's recently published book. This linear walk from Brighouse to Walsden taking in some of the finest woodland landscapes in the Calder Valley can be completed in four separate circular walks or in one day for those who enjoy a challenge.
History
Whilst enjoying the scenery there are many walks that will also introduce you to the area's rich history, such as the Halifax Music Heritage Trail, the Chartists' Way, or the Archaeological Nordic Walk on Crompton Moor. Families can learn about fungi in Hardcastle Crags and there's an opportunity to learn how to rock climb in Littleborough. You can even find out how the Calder Valley Search and Rescue Team train their dogs.
Horse riding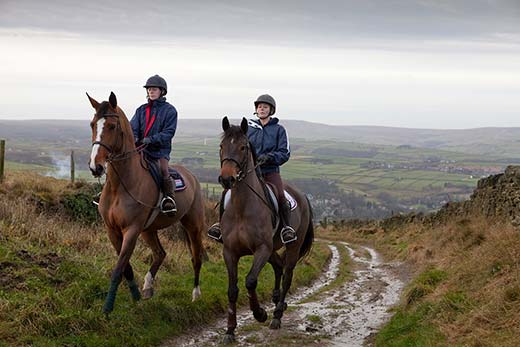 Horse riders can meet at South Crosland Airfield, Huddersfield and choose from several led rides with Kirklees Bridleways Group to enjoy the stunning South Pennines' countryside along bridleways and quiet roads. For those who may not have any equine experience but who would like to 'give it a go' there's the Ponies for People open day at Peers Clough Packhorses in Rossendale. Meet these native breed fell ponies and have a taster ride.
Disabled outdoor enthusiasts
For disabled outdoor enthusiasts there's the opportunity to join the Huddersfield Narrow Canal Mountain Trike Ramble, organised by Experience Community. Suitable for everyone including those using mountain trike off-road wheelchairs people can also hire mountain trikes if they don't have their own.
Events are taking place throughout the South Pennines from Ilkley to Marsden and from Saddleworth to Keighley. Many of the events are listed in the printed brochure, which will be available from shops, tourist information centres and other outlets across the region this summer. For the most up-to-date information and all events' listings please visit the website at www.walkandridefestival.co.uk
Donations
To help fund this year's South Pennines Walk and Ride Festival and ensure its future a Just Giving page has been created. Please donate to secure the festival's future.