The Companion, inspired by Gibson Mill
Monday, 17 July 2017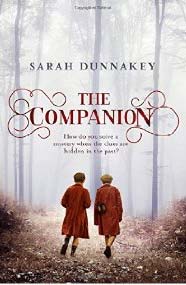 The Companion will be launched at the Birchcliffe Centre, Hebden Bridge on Wednesday 19th July from 7-9pm. All welcome!
The Companion is the debut novel by Hebden Bridge author Sarah Dunnakey, published by Orion this month. The novel is a powerfully told story of buried secrets, set between the 1930s and the present day, among the valleys and moors of West Yorkshire.

Dunnakey, whose day job involves writing and verifying questions for TV quiz shows, including Mastermind, University Challenge and Pointless, drew part of her inspiration from her love of Hardcastle Crags and Gibson Mill.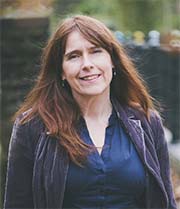 "Ever since I moved to the area twenty odd years ago I have been fascinated by the history of Gibson Mill," Sarah Dunnakey told the HebWeb.
"It's a stunning building in a beautiful location. Sitting by the mill pond looking up at those big blank windows you can get such a sense of all the lives that have passed through there, from the nineteenth century mill workers, to the day trippers who came to dance and roller skate and take refreshments, through to the present day when the National Trust restoration draws in huge numbers of walkers and families." It was on such an occasion, watching reflections in the water that Billy Shaw's voice first entered her head. 'The opening line of The Companion came to me - "I grew up in a Palace" - and the story of The Companion began.' 
The main setting of the novel is the fictional Ackerdean Mill, a former cotton mill turned entertainment emporium - 'Potter's Pleasure Palace' - set in a wooded Yorkshire valley. In the 1930s young Billy Shaw has grown up at the Palace, where is mother runs the tearoom. His big dream is to become Mr Potter's assistant and one day have a Palace of his own. But at the age of 12 he is sent to be companion to another boy, the wild and unpredictable Jasper Harper who lives in an isolated house on the moor tops with his mother Edie and her brother Charles. The two boys become inseparable, spending all the time they can on the moors trying to catch The Beast. But four years after Billy's arrival Charles and Edie are found dead, a 'suicide by mutual arrangement'. 

In 2017, Anna Sallis, the newly-appointed custodian of Ackerdean Mill, formerly the Palace, begins to investigate inconsistencies in the accepted story of Charles and Edie's deaths. Anna becomes curious about what happened to her neighbour Frank's Uncle Billy, absent from the known story. Why did he leave the valley? And what did he know about the events at High Hob that night?

The Companion has already garnered reviews: 

'An engaging and totally compelling mystery' - The Yorkshire Post

"She writes with warmth, wit and wisdom and she makes you want to turn the page. A rare combination," - broadcaster John Humphrys

"If you thought the Brontes were the most intriguing literary family in Yorkshire, wait until you meet the Harpers" - author Linda Green