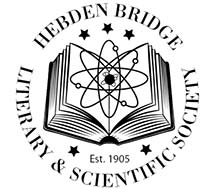 Lit & Sci lectures - five more speakers announced
Saturday, 22 July 2017
Five eminent speakers will be coming to Hebden Bridge Town Hall over the coming autumn and winter months, continuing the success of the lecture series brought back to the town last year by the Literary and Scientific Society (the 'Lit and Sci').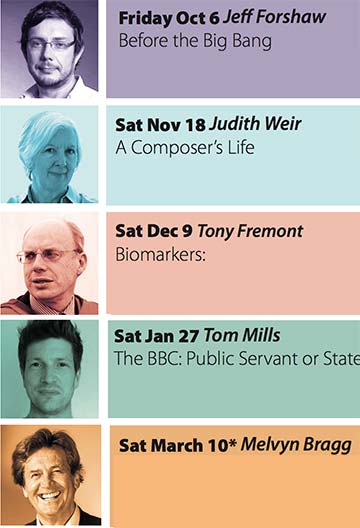 Included in the list of speakers is author and broadcaster Melvyn Bragg, who will be discussing the importance of the life of William Tyndale, a leading figure in the Protestant reformation who translated the Bible into English. Judith Weir, who holds the position of Master of the Queen's Music and is one of the country's best known contemporary composers, will be in Hebden Bridge in November offering a talk with the title 'A composer's life'.
Jeff Forshaw, Professor of particle physics at the University of Manchester and co-author of the recent book Universal with colleague Professor Brian Cox, starts the lecture series in October.  His lecture is provocatively titled 'Before the Big Bang'. Another senior academic from Manchester, this time in the field of medicine, is Tony Fremont, who will be discussing what he believes will be the biggest single change ever in medical practice, with the increasing development of biomarkers.
The lecturers also include Tom Mills who will be discussing the role and place in society of the BBC. Tom is the author of the recent book The BBC: The Myth of a Public Service.
Frank Woolrych, President of the Lit and Sci, told the HebWeb, "We're delighted at the calibre of speakers we have been able to draw to Hebden Bridge. Last year's lectures attracted full houses and we're sure that this year too, the events will be sell-outs. We're encouraging everyone to challenge themselves by coming to lectures on subjects they up to now haven't taken an interest in."
The Lit and Sci has a very long history in Hebden Bridge, having been formed in 1905 following a period in the late nineteenth century when the town had a unique relationship with Oxford University and hosted many lectures from Oxford academics.  Last year's lecture series, the first after a period of relative inactivity by the Society, demonstrated that there remains a desire for quality lectures in the area.
All lectures, which are held in the Waterfront Hall, are open to all.  This year for the first time season tickets to the whole series are being offered at a reduced price.  Season tickets will be on sale at the Town Hall in Hebden Bridge from August 1st.  Tickets for individual lectures are sold approximately 4-5 weeks before the lecture date.
More information can be found on the society's website
Download programme - PDF
See also
HebWeb News - Lit & Sci Meeting Report. Inequality and Social Anxiety: speakers Kate Pickett and Richard Wilkinson Feb 2017
HebWeb News - Lit & Sci Meeting Report. Dr Nicholas Cullinan: Picasso's Portraits Dec 2016
HebWeb News - Lit & Sci: Report of talk by Sir Mark Elder Nov 2016
HebWeb News - Lit & Sci lectures 2016-2017 Sept 2016