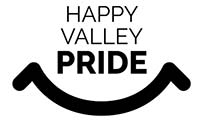 Happy Valley Pride Festival 2017
Friday, 28 July 2017
7-13 August 2017
Happy Valley Pride - celebrating LGBTQ life in Hebden Bridge and beyond (7th to 13th August) - a festival of diversity, inclusivity and awareness for everyone.

Unified with an LGBTQ+ Heroes theme, providing a spectrum of exciting, inclusive events, bringing together nationally renowned and local artistes.
Welcoming in the week, events start Monday with an informal pub quiz upstairs at The Old Gate. Tuesday launches an art exhibition at Nelsons'; plus a documentary on LGBT Britain showing at The Picturehouse. 'Lesbian Writers Read' will be taking place at the unlikely, yet lovely venue of Ribbon Circus! Whilst Wednesday promises a busy evening with live comedy from established comedian, Zoe Lyons at The Trades*.
Taking us to Thursday, when a screening of award-winning film, Pride will include Q&A with former Hebden Royd mayor, Jonathan Timbers, providing personal insight to the film's historic and political landscape. In contrast, contemplative cabaret at Macphelah Mill, 'Listen With Mother' brings an audience-interactive performance.
As we hurtle towards weekend, Friday sees the Little Theatre host a Drag Make-Up Workshop, followed by a separate, sparkling performance at 8pm from alt-cabaret superstars, Bourgeois & Maurice.
Saturday begins with a cram-packed, family-friendly celebration 'The Big Day Out' transforming Holme Street into a staged area (broadcast live on Hebden Radio 87.7FM). Compere Jenny Wilson introduces an eclectic mix of street entertainment. Performances include Scottish country dancers the Gay Gordons; acclaimed comedian Debs Gatenby; Bazzmatazz and local singer/songwriter Terry Logan. Across at Riverside Junior, pupils' 'Heroes' artwork will be displayed, alongside a range of information stalls, plus kids' entertainment and face painting. Elsewhere, human rights talks from LGBTQ+ speakers, Jeremy Pemberton and Flo Krause at Hope Baptist Church; complement the return of renowned human rights activist, Peter Tatchell at Little Theatre at 6pm*.
Waterside Gym explores the art of Vogue in a dance workshop, ending in time to glam up for 'The Main Event', an exuberant evening at Trades with live performances from Manchester bands, Honeyfeet and The Bright Black, rounded off by a Heroes' themed Disco with local DJ, Red Helen.
Completing the festival week, Sunday begins with a 'Celebration of Diversity' communion at St James' Church or a bracing 'Up the Buttress' Walk, led by Peter Tatchell. All culminating in the Pink Picnic and the Pink Pooch Parade all being held in Calder Holmes Park.
*Both Peter Tatchell and Zoe Lyons will offer BSL interpretation.
Full timings, tickets and details online at the Happy Valley Pride website
Previously
HebWeb News: Happy Valley Pride Festival 2017 28 June 2017
HebWeb News: Happy Valley Pride launches 'Heroes' Art Exhibition May 2017
HebWeb News: Peter Tatchell says Happy Valley Pride is long overdue August 2016
HebWeb News: Happy Valley Pride Festival 2016 July 2016
HebWeb News: Sally Wainwright to help Launch Happy Valley Pride March 2016