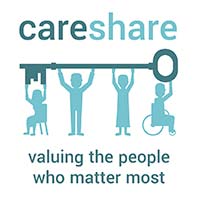 New Care Co-op starting up in Hebden Bridge
Friday, 25 August 2017
Fed up with headlines about the social care crisis? Feel like it's time to do something about it?

A new co-operative is starting up in Hebden with a unique approach to care and support. There are three things about it which, put together, make it different from anything else in the UK.
Owned by workers and users

The first one is that it will offer multi-stakeholder membership, which means it won't just be worker-owned, it's owned by the people using the service too. This means that the interests of the two most important groups in social care - caregivers and care users - hold the majority decision-making power and are properly represented.
Technology

The second one is to do with technology. We've read in the papers about the gig economy, the Ubers of the world and how they're changing the landscape of work. Well, this is now happening in the homecare industry as well (down South, where else?). We don't agree with using a business ownership model that's already been shown to exploit the labour it leverages. We do agree with being able to provide higher wages for care workers with the money that's available at the moment. And this is what these platforms can offer.

We are taking control of the tools being wielded by for-profit, souped-up venture capital companies and re-purposing them for the benefit of the people who use them. What better way than to make them the owners of these tools?
Platform co-operatism

It's got a name (a bit of a mouthful) - it's called platform co-operativism and the movement is growing. 

The third and last one is about the people who get care and support. If anyone has read 'No More Throwaway People' by Edgar Cahn (he wrote it in the 70s) you'll know what we mean.
Making use of users' skills
People receiving care are frequently viewed through the lens of their needs rather than their abilities, skills and experiences. There are lots of fabulous initiatives that move away from this needs-led approach - timebanking, asset based community development and peer support are a few. We want these approaches built into the heart of this co-operative, so people using the service will also be able to offer their own skills and experiences to others and be supported to do this. There will be an alternative currency (just like a timebank) to help this along, but we also expect people to be paid for their time too. Volunteering is important but it's not always about that.
Introductory Workshops

We're right at the beginning of the journey and looking for people to get involved and help make it all happen. There's more we could say, but instead of writing it all down here, do come along to the introductory evening and afternoon workshops in The Page (on Bridgegate, between Aya Sophia and Callan's) to find out more. 

They're happening on:

Wednesday 30th August 6pm - 9pm
Tuesday 12th September 2pm - 5pm
Wednesday 20th September 6pm - 9pm
Tuesday 3rd October 2pm - 5pm
Monday 9th October 6pm - 9pm

Places are limited so please could you book at this Eventbrite page.
Also say hello on our new Facebook page
Or drop us an email to hello@careshare.org.uk.

We look forward to meeting you!

See also
Independent: Why co-operatives could be the answer to the UK's social care crisis (1 August 2017)
Coops UK Innovative social care enterprise wins national 'co-op pitches' competition (13 July 2017)