Wainsgate Concert: Rachel McCrum and Caroline Bird
Saturday, 26 August 2017
Wainsgate Chapel, 2 September 2017, 3pm
The 2017 Wainsgate Chapel concert series resumes after the summer recess with a fascinating and entertaining performance poetry event featuring award-winning poets Rachel McCrum and Caroline Bird who have teamed up for this double headliner spoken-word show. They are touring venues in every part of the British Isles, reading poems from their most recent collections.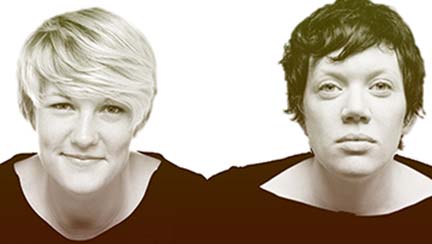 "We've had some amazing spoken word events at Wainsgate over the past few years and we're delighted to bring two more outstanding performers to Hebden Bridge to follow in the footsteps of such luminaries as Hollie McNish, Rosie Garland and Rommi Smith" said series organiser Dave Nelson.
Recognised as one of Scotland's highest profile poets and performers, Rachel McCrum has worked in Scotland, Montreal, Haiti, South Africa, Greece and Northern Ireland. She won the Callum MacDonald Award for her first pamphlet The Glassblower Dances in 2012, was the first ever BBC Scotland Poet In Residence in 2015 and was awarded a Robert Louis Stevenson Fellowship in 2016. Her second pamphlet Do Not Alight Here Again (2015) was turned into a solo show for the Edinburgh Fringe Festival in 2015. Amongst many other venues she has performed at Latitude, Wickerman, and the Edinburgh International Book Festival. Rachel McCrum will be reading from her debut collection The First Blast To Awaken Women Degenerate.
Caroline Bird's first poetry collection Looking Through Letterboxes was published in 2002 when she was 15. This was followed by Trouble Came to the Turnip, in 2006 and Watering Can in2009 all to great critical acclaim followed by The Hat-Stand Union in 2013 which was described by Simon Armitage as 'spring-loaded, funny, sad and deadly.' She was short-listed for the Dylan Thomas Prize in 2008 and 2010 and was one of the five official poets at London Olympics 2012. Caroline Bird will be reading from her latest poetry collection In These Days of Prohibition in which she surrenders her poetic weaponry and goes on a quest to write the 'simple truth'. The surreal imagery of her early work is re-deployed to venture into the badlands of the human psyche.
The performance is at 3pm on Saturday September 2nd and tickets, which are only available at the door, cost £10, and £8 with a special price of £3 for under 18s.
Following a jazz concert given by Stuart McCallum's Breath on September 30th there is another spoken word event on October 7th when Jemima Foxtrot returns to Hebden Bridge with her new Edinburgh show, Above the Mealy-mouthed Sea. There is more information about all events at www.waingate.co.uk