Save Todmorden College: public meeting in Hebden Bridge
Monday, 11 September 2017
The Egg Factory: Tuesday 12 September, 7pm
Most of the buildings.that surrounded Todmorden College have now been flattened. The college remains - just. Calderdale Council think the best solution would be a massive Aldi instead, one that would rival the massive Lidl being built right now. In Tod, we've already a massive Morrisons and One Stop and a massive Spar. We're short on elderly housing and thriving education centres and community hubs.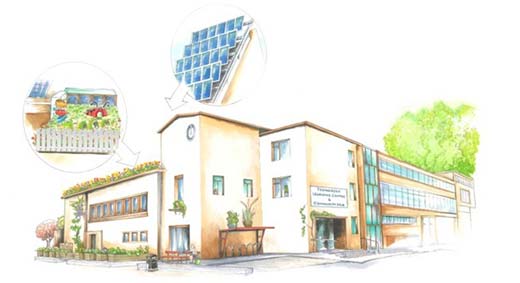 Over the last few months, supporters have poured a considerable amount of "heart and soul and stress" into coming up with a viable alternative, a green Learning Centre and Community Hub fit for the 21st century.
This intitative began with Barbara Jones, Principal of the School of Natural Building, and Incredible Farm Chief Exec Nick Green and and Secretary Robin Asby.  There is support from Todmorden Business Network, and other Todmorden businesses, for greater use of the College space.  There is also substantial public support, already demonstrated at public meetings and messages on social media.

Todmorden College used to serve the whole of the Upper Valley. That's why we're having a public meeting in Hebden Bridge, so Hebden Bridge folks and anyone else can come and share in our vision. We need you!
Please come along and bring cake and become a founder member.
See website for more info: socit.org.uk