Quakers in Hebden Bridge prepare for Quaker Week
Wednesday, 13 September 2017
We live in turbulent times – and that's the focus for Quaker week (#quakerweek) this year, which runs from 30th September to 8th October. This is when Quakers in Britain publicise what Quakers do, both nationally and locally.
The theme is 'In turbulent times: be a Quaker'.
In Hebden Bridge, Quakers meet at Royd Square (a social services building), in Bond Street, every Sunday morning from 10:30 – 11:30am, including a children's meeting.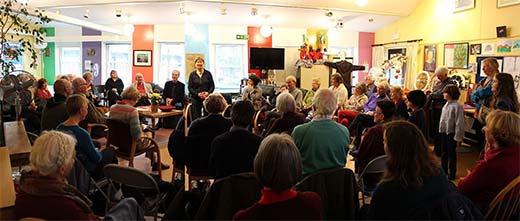 Our meetings for worship are based in silence, sometimes with spoken contributions from anyone present. We aim to experience 'that of God', or 'the light deep within ourselves', without creeds. We share values – our Quaker concerns for peace, equality, truth, justice and simplicity.
Quakers, or the Society of Friends, originated in the 1650s during the ferment of the English Civil War. Historically, Quakers have been involved in prison reform, the anti-slavery movement, reconciliation and peace activities, and the campaign for equal marriage. They were also involved in making chocolate, biscuits and shoes and founding banks, such as Barclays! Early Quakers, like other non-conformists, were barred from attending universities.
There's been a Quaker meeting for worship on Sunday mornings in Hebden Bridge since 1991. The initial Quaker meeting was held once a month in the old Hebden Bridge Tourist Information Office, starting in March 1987, and was an offshoot of the Halifax Quaker Meeting. It now draws people from all around the upper Calder Valley. So, Quakers have now been meeting for worship in Hebden Bridge for 30 years.
We welcome anyone to join us, any Sunday, and especially in Quaker week.
Alison Leonard, Kath and Geoff Tansey, Mark Holtom.