Man with a Movie Camera
Tuesday, 19 September 2017
Silent film with musical accompaniment
Saturday 23rd September. Doors will open at 4.15pm and the film and performance will start at 5.00pm.
Man with a Movie Camera met with bewilderment on its release but is now recognised as a cinematic milestone; one of the most radical films of Soviet cinema, and a major influence on Godard, Marker and others.

Part of the Scalarama Cinema Festival, The Hebden Bridge Picture House presents this 68-minute silent feature accompanied by a new live score performed on marimba, percussion, piano and electronics.
Tickets are available at hbph.co.uk, in advance from the cinema during opening hours and on the door.  Adults £9, Over 60s and Passport to Leisure £7, and Students / Under 26s £5.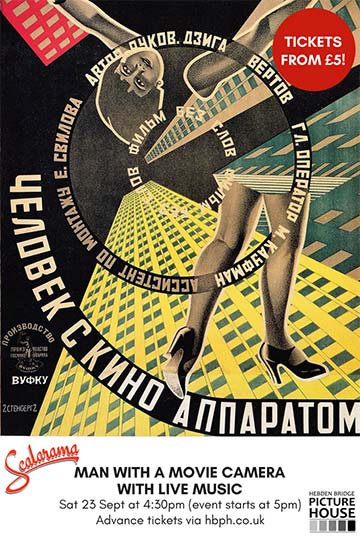 Scalarama (1-30 September 2017) is a celebration of cinema, for everyone, by everyone, everywhere, taking place every September.
Imagine a month of cinema – 30 days in which cinemas across the world join together to celebrate watching films together – where cities, towns and villages are transformed with cinemas popping up in unexpected places – and where classic, rare or locally made films get an annual showing. This is Scalarama!
Since 2011, every September, cinemas, film clubs and film festivals plus various organisations and individuals who have a passion for movies, have united to celebrate and encourage watching films together. This annual celebration, started in the UK, sees September transform into a month of amazing films, screened in various locations and by all different types of people – from established picture palaces to newbies, completely new to screening films.