Re-vamp of paths in Hardcastle Crags

Update: Thursday, 5 October 2017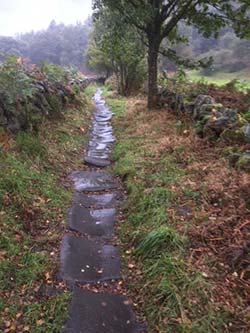 Yesterday, CROWS volunteers have finished uncovering the causey stones on the new Slurring Rock path in the Crags. The section in the photos was done last week but look even better since some heavy rain. Rich, one of the volunteers said how nice it was to be revealing history after it's been hidden for decades. If you want to have a look, follow the red waymark posts from the top car park.
---
Wednesday, 20 September 2017
The Community Rights of Way Service (CROWS), working for the National Trust, have started some major path works in the Crags. The Current waymarked routes will all be renamed with the aim of producing a new improved map in the Spring of next year.
Slurring Rock path to Gibson Mill will keep to the top edge of the Crags all the way along and will be waymarked and widened.
The Riverside Ramble to Gibson Mill will be waymarked and drainage issues sorted.
The Three Bridges Circular path above Gibson Mill will be waymarked and the many muddy spots dealt with.
 The Widdop Gate Loop path will be waymarked, the path widened and the many muddy spots dealt with.
There will be a new path down from the Crags called the Crags Scramble 
People should see improvements to the routes over the next six months with the new waymarking being completed early next year.