Wainsgate Concert: The Breath
Thursday, 21 September 2017
Wainsgate Chapel, Saturday, 30th September 2017, 3pm
The next concert in the Wainsgate Chapel Summer Series features The Breath. This outstanding Mancunian jazz/fusion quartet is headed up by former The Cinematic Orchestra guitarist Stuart McCallum, and the astounding Irish singer Ríoghnach Connolly together with fellow Cinematics John Ellis and Luke Flowers.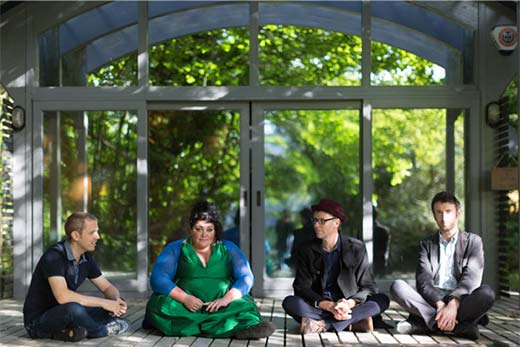 Ríoghnach Connolly
Born out of Manchester's fertile music scene, The Breath mixes Irish folk influences with mesmerizing guitar riffs, anthemic themes and powerful hooks. Ríoghnach Connolly is best known for her work with Afro Celt Sound System; and her soulful jazz, blues and Trad Irish influenced vocals are interwoven into the electronic fabric of The Breath's distinctive sound-world. In turns hypnotic, lush, powerfully raw and raucously punchy, the songs entrance, uplift and break your heart within a kaleidoscope of sound that perfectly frames her emotional songs and soul-cleansing vocals.
Stuart McCallum
From jazz beginnings to DJ culture, Stuart McCallum's music is 'alternative jazz' - a distillation of influences, creating a sound that is concentrated and distinctive. His music is a new hybrid of composition, production and performance, embracing simple, memorable melodies, electronica and improvisation enriched by elegant writing. Stuart has performed and recorded with some of the most prominent jazz artists in the UK, including Kenny Wheeler, John Surman, Mike Gibbs, Gwilym Simcock and Tim Garland.
John Ellis
On piano is legendary Mancunian keyboards player John Ellis, who as well as performing in The Cinematic Orchestra and running his 12-piece John Ellis Big Bang, has a long list of credits including working with Lily Allen, Tom Jones, John Squire of The Stone Roses and DJ Vadim amongst many others.
Luke Flowers
The band is completed by sought-after drummer Luke Flowers who has toured Europe and North America and appeared at Montreal, Montreux and North Sea Jazz Festivals and the Big Chill. He has also worked extensively with Corinne Bailey-Rae, US soul legend Fontella Bass and UK hip-hop star Roots Manuva.
Times and prices
The Breath's performance is at 3pm and tickets, which are only available at the door, cost £10, and £8 with a special price of £3 for under 18s.
Up next: Jemima Foxtrot
The final concert in the 2017 series takes place on October 7th when performance-poet Jemima Foxtrot returns to Hebden Bridge with her new Edinburgh show, Above the Mealy-mouthed Sea. There is more information about both events and details of how to get to Wainsgate at www.waingate.co.uk