Local NHS under increasing threat
Monday, 25 September 2017
Doctors, nurses, patients, trades unions, and the public tell West Yorkshire and Harrogate Councillors to protect the NHS

On Friday, 22 September, three members of Calderdale and Kirklees 999 Call for the NHS handed over a letter signed by more than 250 people from across West Yorkshire, calling on West Yorkshire and Harrogate Councillors' joint health scrutiny committee to urgently defend the area's NHS and social care services from over £1bn cuts from NHS and social care by 2020/1, compared to the current level of spending.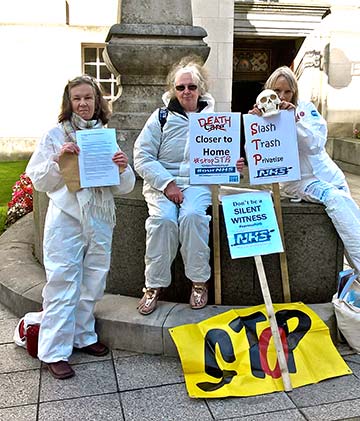 The letter's signatories included Calderdale Trades Council, hospital doctors and GPs, nurses, patients and members of the public. (See letter and signatories)
Panel to confirm GP referrals

Here's just one of the issues that the West Yorkshire and Harrogate Joint Health Scrutiny Committee must urgently investigate: the government quango, NHS England, says that GP referrals now have to be second-guessed by a panel who haven't even seen the patient – with the suggestion this scheme could reduce referrals by up to 30%. 

This is all about cutting NHS spending - but behind those referrals are real people with real problems who have already seen their GP, often many times, and need the help of a hospital specialist.
Destruction of NHS by stealth

Chair of Calderdale and Kirklees 999 Call for the NHS, Jenny Shepherd, said, "The destruction of our NHS is happening by stealth, through a process like boiling a frog." 
Secretive

The secretive West Yorkshire and Harrogate Sustainability and Transformation Plan, prepared last Autumn on the instructions of the NHS England quango, has now become the Sustainability and Transformation Partnership  (taking powers to itself that the Conservative General Election Manifesto said the government would legislate for, although this commitment has now been dropped).
  
But key documents spelling out finances, workforce and other key aspects of the future of our NHS and social care services have still not been published, leaving Councillors and the public in the dark about what is going on.
Restrictions and denials of patient care

Meanwhile restrictions and denials of patient care are becoming more and more common, while frontline NHS staff become more and more overburdened and stressed.

Handing over the letter to Leeds City Council scrutiny support, the campaigners carried signs saying "Error 404 - Democracy Not Found" - a reference to the fact that the West Yorkshire and Harrogate Sustainability and Transformation Partnership are hatching further secretive plans for cuts and privatisation of NHS and social care services without any democratic scrutiny by Councillors. 

Christine Hyde, a Dewsbury member of Calderdale & Kirklees 999 Call for the NHS, said, "We look forward to the West Yorkshire & Harrogate Joint Health Scrutiny Committee meeting urgently, after examining the evidence we've given them about secretive Sustainability and Transformation Partnership plans for cutting, merging and centralising services."

Chrissie Parker,  from Huddersfield, said, "The Scrutiny Committee Chair, Cllr Hayden, needs to act on this promptly to stop the cuts before it's too late. Otherwise the NHS will soon be left with next to nothing and everyone who can afford it will be forced to go private. And what about those who can't?"

Jenny Shepherd, from Calderdale, said, "The West Yorkshire & Harrogate Joint Health Scrutiny Committee has the power, and the duty to use that power, to stop any significant NHS changes that would damage the health interests of the public and the NHS itself. 
 
"I can't understand why they haven't met since March and why they have no scheduled meetings coming up,  when basically our NHS is being dismantled, patients are finding it harder and harder to access all kinds of vital treatments and NHS staff are working all hours under the pressure of NHS funding cuts and it's a wonder they're not dropping like flies."