Hebden Bridge Station Café voted best in country
Thursday, 28 September 2017
"The Coffee Station", the cafe on Hebden Bridge railway station, is the first ever winner of a prestigious national award.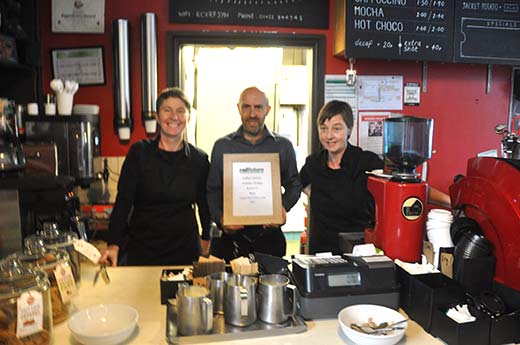 The award is from Railfuture - the national rail passenger organisation that campaigns for better and more trains and a bigger and better railway. Station cafe customers across Britain were invited to vote on Railfuture's website for their favourite independent station cafe.
"The Coffee Station" beat other popular cafes from across the country; of these, the Jubilee Refreshment Rooms at Sowerby Bridge came joint third.
"The Coffee Station" was taken over in 2005 by Heptonstall residents Lisa Crebbin and Antoinette Hunt. It is open from 6am to 2pm Monday to Friday, and for slightly shorter hours on Saturdays. It serves hot and cold drinks, light lunches, all day hot snacks, home-made sandwiches and cakes, and also newspapers and greeting cards. Service is warm, friendly and efficient, and prices are very reasonable – a cup of tea is only 90 pence, a filter coffee £1.   
The award ceremony took place in the "Coffee Station" and was attended by the Mayor of Hebden Royd Councillor Pat Fraser,  and Arriva Trains North's Stakeholder Manager Pete Myers and Communities and Sustainability Manager Richard Isaac.  Presenting the award, Railfuture's Honorary National Communications Director and Board Member.
Christopher Hyomes from Pontefract congratulated Lisa and Antoinette for winning the award, and said they had beaten stiff competition from across the country. He said that good quality station cafes were greatly appreciated by passengers, especially regular commuters, and Railfuture had set up the award to encourage station cafes.  
In response, Lisa Crebbin said, "Antoinette and I would like to thank all our customers for supporting us during the past twelve years, and for voting for us. We are thrilled and humbled at this national honour. We'd also like to thank our hard working staff, without whom we couldn't offer the service we do".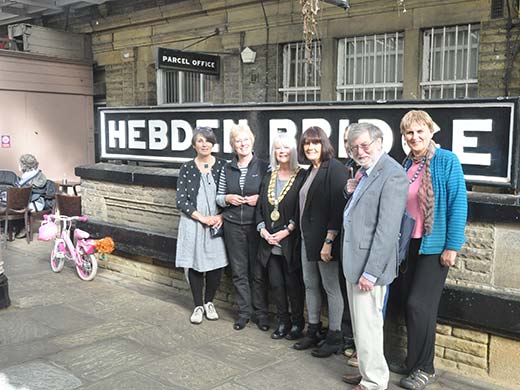 The event also celebrated ten years since the founding of the Friends of Hebden Bridge Station, and their founding Chair Nina Smith is now Chair of Railfuture's Yorkshire branch and also of the Upper Calder Valley Renaissance Sustainable Transport Group. She said that the "Coffee Station" is a wonderful example of how a station cafe should be, with excellent food and drink at reasonable prices sold by warm and friendly staff. She added "I challenge anyone to find a better toasted bacon and tomato butty".
A second honour for Hebden Bridge's Victorian Railway station is that it is featured in a new Penguin Viking book Britain's 100 Best Railway Stations by Sir Simon Jenkins. It is being launched on the 28th and will be available at the ceremony.
Friends of Hebden Bridge Chair Martin Whittell said, "It is fantastic to be able to celebrate three great achievements. The 'Coffee Station' is a fantastic asset not just to the station but also to the town, whilst the Friends have done fantastic work with developing gardens around the station"