Wainsgate Concert: Jemima Foxtrot
Monday, 2 October 2017
The 2017 Wainsgate summer concert series comes to an exciting conclusion on Saturday October 7th with the return to Hebden Bridge of former Calder High School student Jemima Foxtrot performing her recent Edinburgh Fringe hit one-woman show Above the Mealy-mouthed Sea.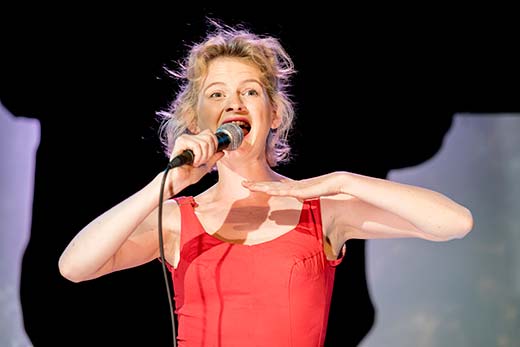 Now living in London, Jemima has built a considerable reputation for her performance poetry in which she blends powerful, sonic-heavy words with snippets of song delivered in her distinctive and powerful voice.
Shortlisted for the Arts Foundation Spoken Word Fellowship 2015, she has performed extensively nationally and internationally including at the Barbican Main Hall, Glastonbury Festival and Latitude Festival. Jemima has also written commissions for the BBC, Channel 4 and Tate Britain.
In 2015 Jemima brought her acclaimed debut show Melody straight from that summer's Edinburgh Fringe Festival to Wainsgate Chapel where it received a rapturous reception. Following in its tracks, Above the Mealy-mouthed Sea similarly fuses storytelling, prose, poetry and song to create a strange, funny and poignant play which explores memory, childhood and what happens when we can't quite get the story right.
Jemima's unique and award-winning style delivers an emotional and punchy one-woman performance full of dark humour and great pathos. Like the previous show, it was co-written and directed by Lucy Allan and produced by London-based theatre company Unholy Mess in association with Omnibus Theatre.
"The 2015 Melody show was absolutely stunning and the whole audience was completely blown away by it," commented Wainsgate concert organizer Dave Nelson "and I'm certain that this new one will be equally brilliant. I've known Jemima all her life and it's been a great pleasure to watch her develop into a highly successful, well-established writer and performer."
The concert starts at 3pm and tickets, which are available at the door, are £10 and &pound 8 with a special price of £3 for those aged 18 and under, although Jemima advises that her show is for age 14+ with parental guidance.
There is more information about Wainsgate Chapel and how to get to there at www.wainsgate.co.uk.