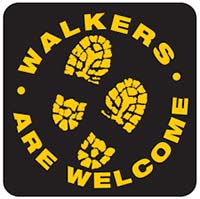 Walkers are Welcome Conference in Hebden Bridge
Tuesday, 24 October 2017
The three towns of Hebden Bridge, Mytholmroyd and Todmorden played host to keen walkers from across Britain when the Walkers are Welcome Annual General Meeting was held in Hebden Bridge. 
In 2007, the Walkers are Welcome movement was set up in Hebden Bridge. Since then, Walkers are Welcome groups have been set up in 118 towns and villages, including Mytholmroyd and Todmorden. Walkers are Welcome exists to encourage people to explore new walking areas, and to help local infrastructure meet the needs of walkers. Shops, cafes, restaurants, pubs, B&Bs, hotels and local bus services all benefit, as well as our footpath network. 
The Tenth Anniversary Festival took place over six days, with organised walks most days and a Conference and entertainment at the Birchcliffe Centre on Saturday 14th October.  The Conference held detailed discussions on a wide range of topics including e-trails, rights of way, children's walks and the future direction of the Walkers are Welcome organisation
In the evening, delegates enjoyed a buffet supper provided by the Aya Sophia restaurant and then listened to a concert by Colne Valley based duo O'Hooley and Tidow.
One of the Festival Organiser Mo Ludlam said, "We made new friends from other Walkers are Welcome towns and they in turn were impressed by the countryside and walking opportunities around here. The Walkers are Welcome concept has spread to Japan and we hosted three Japanese visitors. Yukiko Kamiya,  Secretary General of the Midorinoyubi footpath association, is anxious to promote twinning between the Walkers are Welcome towns from the two countries, certainly something for us to think about'. 
Founding Chair of Walkers are Welcome and Hebden Bridge resident Andrew Bibby, who was a speaker at the conference, said, "It is wonderful to celebrate yet another Hebden Bridge initiative that has spread nationwide. Walking is a healthy activity that enables people to see many hidden parts of the countryside"Further information about walking in the area can be found at the Heart of the Pennines website