Charity Fashion Show raises money for Watermark Flood Fund
Monday, 30 October 2017
Ten Hebden Bridge businesses came together on Thursday 26 October 2017 in a fashion extravaganza to raise money for the Watermark Flood Fund.
New Hebden Bridge fashion outlets District 21 and Dragonfly Boutique showcased their autumn and Christmas ranges with local models strutting their stuff on the temporary catwalk erected at Valli Opticians for the evening (which was kindly loaned by Calderdale College). 
Fashion show
The concept of holding a fashion show was first discussed when Joanne Gas of Dragonfly Boutique met Rachel Valli of Valli Opticians at a business networking event several months ago.  The two businesses have since worked tirelessly to bring the idea to fruition, culminating in Thursday night's event.  Joanne said, "Since opening in Hebden Bridge six months ago, we have been welcomed into the community and were thrilled to have played an integral part in organising the fashion show which, as well as showcasing our clothing range, raised valuable funds for the Watermark Flood Fund".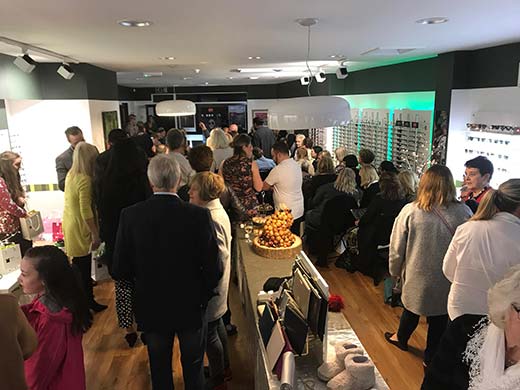 Full to capacity, the 100 guests were treated to canapés and delicacies provided by Valentine's Café and the Shoulder of Mutton pub and drinks sponsored by Welcome Independent Living and Valli Opticians.
£710 raised
A total of £710 was raised for the Watermark Flood Fund by way of ticket sales and a raffle held on the night.
Katie Kimber of the Watermark Flood Fund said, "We would like to thank Valli Opticians for hosting this super event, the exhibitors, sponsors and everyone who attended – it was a complete sell-out!"
Rachel Valli of Valli Opticians said, "We have a good size space in our Hebden Bridge premises and are happy to use this for the benefit of the community wherever possible. We were delighted with the turnout on the night.  We would like to extend a huge thank you to all the exhibitors, sponsors and those who provided raffle prizes.  This was a perfect example of the Hebden Bridge community working together".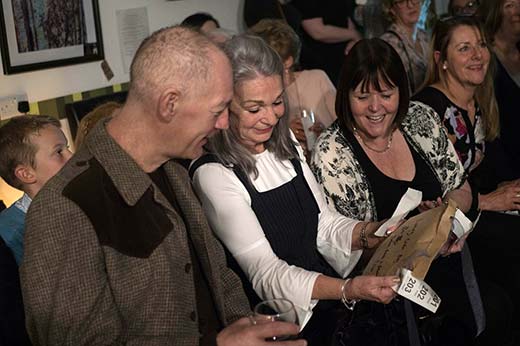 Debbie and Mark Coup, owners of Valentine's Café, District 21 and Welcome Independent Living, said, "We are always happy to support the local community and were delighted to see how everyone worked together to make this evening such a success"
Other exhibitors on the night included Arcanum, Brocante, Hat Therapy, Stella Hill Artist, Fleur De Lys and Fleur & Flora.