Lunchtime Live at Hope Baptist Chapel
Wednesday, 8 November 2017
Lunchtime Live is launching on Saturday 11th November and is going to be a monthly free event for the public to enjoy at the Hope Baptist Chapel, Hebden Bridge.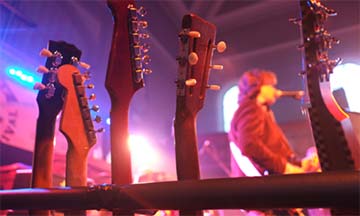 Gerard Liston from Hope Baptist Chapel says 'We are delighted that this is one of the first events to take advantage of a 5-year £1m repair programme recently completed on Hope Chapel. It is a unique venue in the town with a great ambience and acoustics that hosts a variety of events and activities promoting wholeness and wellbeing.
So, providing a venue that allows local folk to showcase their talent on stage - possibly for the first time - is right up our street. We are confident this will be the start of something special for Calderdale.'
Board of organisers
Hope Baptist Chapel have a dedicated board of organisers for this ongoing event and they include; Gerard Liston, Fiona Pattison, Dave Boardman, Sarah Courtney and Terry Ward who have all got a great background in events, music and management, so you are all in safe hands for the day.
Refreshments and cake will be for sale. All are welcome.
Dave Boardman says, "Opening up Hope Baptist Chapel for gigs is a very exciting prospect for Hebden Bridge. We have plenty of great music and musicians here - and the Trades Club with it's fantastic reputation. The chance to add regular Saturday afternoon gigs will enhance the music options and reputation of our town and the valley.
"I do hope this turns into a regular series of events which can partner local performers with top quality musicians from elsewhere."
The Line Up
This amazing Line Up for the first Lunchtime Live at Hope Baptist Chapel event happening on Saturday 11th November will include, beautiful harmonies from The Harmony Jar, foot tapping and heartwarming songs from Thomas Graham, upbeat music with poetic undertones from Ghost School and the talented and renowned Nick Hall (other half of Plumhall) is sharing some of his solo work. 1-4pm and admission is free.
Sarah Courtney from The Harmony Jar says "We are really excited to be playing at the Hope Baptist Chapel as part of the inaugural Lunchtime Live event. We're looking forward to sharing the stage with brilliant performers. And there will also be cake. What's not to like?" The Harmony Jar are going to soothe and entertain you with a mixture of original ballads and songs from a variety of genres treated to give a country feel."
Then onwards to the notorious Ghost School, a new musical ensemble extraordinaire based largely around the original songs of Calderdale musician Andy Greaves (vocals, mandolin and guitar), a heavy dose of traditional material and, here and there, some very odd poetry. The band features urbane master of the guitar Les (Fez) Gillon and the talented Jen Rhiannon Trott (fiddle and vocals). An expansion of the project involving Sowerby Bridge based Alex McCune (drums) and Joe Farrell (bass, cora) is underway.
Thomas Graham is a local lad and has been played on BBC radio many times, his charismatic charm and musical prowess will definitely have you hooked by the first few songs. He has been writing songs since he was a young lad and his songwriting has developed into a fine art. Inspired by an array of musical styles from bluegrass, jazz, and folk, he has woven a recognisable style that is associated with him. Thomas has been in the studio working on his album and he is going to be previewing a few new songs at Lunchtime Live.
We are honoured to have the legendary Nick Hall (partner in crime to Michelle from Plumhall) Nick Hall has finally arrived on the scene as a fully-formed solo artist after a fascinating apprenticeship.
Nick has continued to develop his skills as a highly-rated guitarist and singer-songwriter – with his song 'Never Forget My Name' being covered by the Folk-Award nominee, Dan Walsh and a Yorkshire Gig Guide Outstanding Song-Writing Award. Along the way, Nick has also performed onstage with many superb musicians and songwriters – including Peter Tork of The Monkees, Larry Campbell (Grammy-Award winning producer and member of both Bob Dylan's and Paul Simon's bands), Ian McNabb (Mercury Prize nominated songwriter and Liverpudlian legend from The Icicle Works), Jon Sevink (Levellers), Phil Beer (legendary folk musician of Show Of Hands fame), Dan Donnelly (The Wonder Stuff), Ian Prowse (Pele, Amsterdam) and many more. He is a regular at the Hebden Bridge Folk Roots Festival and is going to be performing for us at Lunchtime Live.
Hope Baptist Chapel
Saturday 11th of November
1pm – 4pm
Admission Free
All are welcome
A monthly event
"Lunchtime Live is a monthly event for the whole community and it is an opportunity for any aspiring performer to take to the stage and try out new material, from music, comedy, spoken word." Fiona Pattison
Please get in touch via email and pitch your ideas.