Artsmill: Winter Open Exhibition
Wednesday, 15 November 2017
Winter Open Exhibition: 22 November - 17 December
Preview 2-4 on Sunday, 19th November at The David Wright Gallery, Artsmill. Elaine Hook Textile Exhibition - Gallery Lounge
45 artists and designer makers from around the Calder Valley are coming together and showcasing their work at The David Wright Gallery at Artsmill, Hebden Bridge.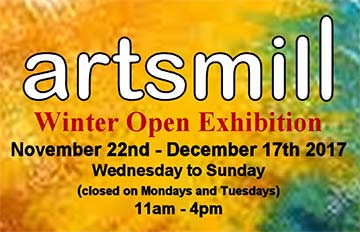 Catherine Leedham from Artsmill told the HebWeb,"We have such an amazing wealth of talent in the valley and its good to celebrate it all together in the Winter Open Exhibition, ready for the Christmas Season.
"David Leedham one of the curators of the show said, "We have a mix of Art from Sculpture, Paintings, Prints, Textiles and Crafts, its going to be a wonderful Exhibition of discovery as customers come and see the many wonderful items on show to buy.
Caroline Reed is one of the artists showing her work at the Gallery and she states "I have many great arty friends in Hebden Bridge which is fantastic for an artist as there is always someone to be inspired by, its good to be exhibiting alongside fellow artists."
The Winter Open Exhibition runs until 17th December and is a great place to visit to do all your Christmas Shopping and get a nice cup of something warm and lovely delicious cake and snacks. Amongst the talent represented are painter Michael Acton, illustrator Louis Benoit, work from Roo Waterhouse, Dorothy Ann Simister, Ann Lawson and many many more.
Elaine Hook is also showing her Textile Exhibition in the Gallery Lounge at Artsmill and shared what we can expect at her show. "I am exhibiting a range of wall hangings and framed pieces that express my journey around the world, love of nature and the environment and several decades searching for love and happiness, peace and tranquillity."
"My textile work tells this life journey travelling and working on four continents and all that it encompassed good and bad. I have lived and worked in the USA, Middle East, Africa and Europe and through this exhibition, line, shape, texture and colour represent those continents, e.g. desert and sand dunes, heather on the moors, Yorkshire Dales, junctions, crossroads and sometimes dead ends.
"My work creates a metaphor for roads, train lines, oceans, forests, hills, moors and deserts through language, line, texture, shape and colour all united to make meaningful and thought-provoking pieces of art. The colours in my work represent the various landscapes I have crisscrossed, traversed and passed through – interpret can you wish.
"The words and language woven into the work represent some of the challenges I have faced and helps to lead you down the road and encourages the onlooker to feel some of my life journey in the pit of their stomach and recognise that something so traumatic can be turned into something very beautiful. The work embodies recovery, resilience and healing which we can all relate to and empathise with."