A week in the life of Hebden Bridge Rotary Club
Friday, 17 November 2017
Just another normal week in the busy life of Rotary Club of Hebden Bridge. Last Sunday saw us at wreath laying ceremony for Remembrance Sunday at Mytholmroyd War memorial. An annual donation is made to the British Legion from the club. This moving ceremony is a must in the Rotary calendar.
The Marie Curie Foundation approached us to help in one of their main collection day., Rotary members were only too happy to help, shaking the collection tin. We have yet to be informed of the amounts raised in our day at Morrisons, Todmorden, but judging by the weight of the collection box it will be a considerable sum. I was personally very moved by two donors in particular, during my stint. One lady brought me a full jar of coins to be added to the donation. Another elderly lady clearly still a little shaken and uneasy as she searched her purse to donate, whilst telling me she had recently been mugged and beaten. What a brave lady, the tremendous good and bad in our society never ceases to amaze. Thanks to Morrisons customers in Todmorden, you were fantastic.
During the week, we have been collecting shoeboxes from various schools in the area. The schools do terrific work in filling these boxes with numerous Christmas presents for children less fortunate than themselves. We at the Rotary club collect these and send them to a national distribution centre which then transports to various parts of the world, in need of some Christmas cheer, through a nationwide Rotary initiative.
A couple of evenings this week have been spent doing early planning for our two-major fund-raising events, the famous Hebden Bridge Duck Race (Easter Monday 2nd April 2018) and the iconic Hebden Bridge Vintage Weekend (4th and 5th August 2018). It always surprises me just how much time goes into organising these very successful events.
Our president Chris Hoyle, was invited to a 'Good Work Assembly' at Woodbank Special School in Luddendenfoot as a thank you for the grant made to the school. The school wanted to complete phase 1 of a major project to develop an Outdoor Learning environment and asked the Rotary club of Hebden Bridge for a grant, the club was happy to donate £5,000 which was fund matched by the 'Friends of Woodbank'.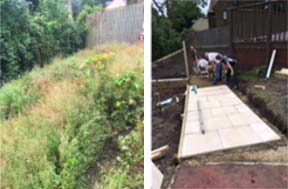 Above: Before and after pictures from Woodbank School. "The work took place at the end of August and we have been really excited by the results."
This project had been one of Phil Warrington's, our President the previous Rotary year, chosen good causes. Phil did a great deal of work to make it happen. The project however, could only be completed when the school was closed for summer holidays.
Jenna Port (Assistant Head at Woodbank) thanked Chris and the 'Friends of Woodbank' and commented. "This work will now give us a sound base on which to develop and build on the outdoor learning area that can be accessed by all our school community."
The Rotary club of Hebden Bridge paid out over £40,000 in grants to various, local, national and international charities and good causes during Phil's Rotary year as president. We very much hope to match or even better that during Chris's year.
A full listing of grants made can be found on our website