Todmorden's Lamplighter Festival this Saturday
Monday, 20 November 2017
The Calder Valley will be treated to a fire and light spectacular when the Lamplighter Festival returns on Saturday. See below for map.
Produced by Hebden Bridge's Handmade Parade
The festival, produced by Hebden Bridge based Handmade Parade, will begin at 5pm with the lantern parade setting off at 6pm. The parade and festival will include giant illuminated puppets and lanterns made by local artists and community and a host of fire shows, illuminated installations and street theatre, and will continue until 8.30pm.
Lantern workshops
Hundreds of people have been busy making lanterns at open workshops and thousands more are expected to line the route to watch the parade, which sets off from Bramsche square carpark, outside the market.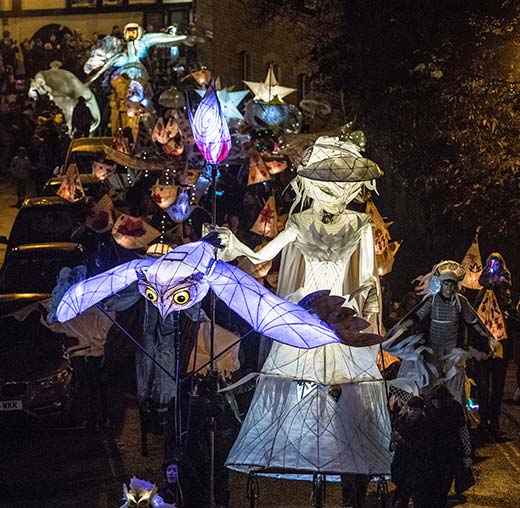 Performers
The festival will feature a host of local talent including fire-performers Flame Oz, Ian Broscomb's TrOnion, Eris the Dragon, inflatable light installations by Spacecadets and fabulous live drawing projections by Fabric Lenny, all accompanied by gorgeous grooves from street bands Drum Machine, Skiband, Handmade Samba and Mr Wilson's 2nd Liners.
There will be walkabout performances by Rag and Bone as well as dancers, stilters, a UV disco and beautiful illuminated artwork and performances created by groups from across the valley.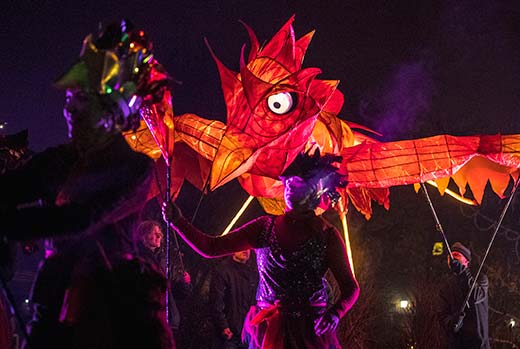 Kerith Ogden, Artistic Director of Lamplighter Festival 2017, said: "As usual, it looks like it's going to be a fabulous night. Hundreds of people have worked really hard to make a fantastic extravaganza full of magic and light, that the valley can be really proud of."
Travel by public transport or on foot.
Organisers are urging people to travel to the event on foot or by public transport if at all possible as there is reduced parking due to all day car park closures on Rose street and Bramsche Square carpark from 3.30pm
Road closures
Roads will be closed in central Todmorden between 6pm and 7pm, so please use alternative routes if travelling at this time.
For those wishing to avoid the crowds in the town centre, the best vantage point to watch the parade from will be on Rise Lane. 
Street food
There will be street food available both at the festival and from local market traders so come with an appetite and wrap up warm.
It will be a busy day for Todmorden with the Christmas Lights being switched on earlier in the day at 4pm.
Previous Lamplighter festivals have proved a huge hit with the thousands who watched and took part.
Map - click map to enlarge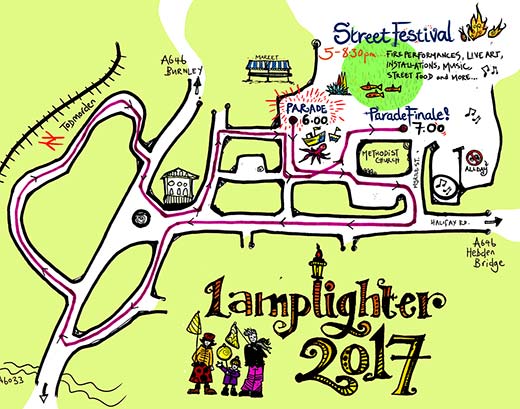 This year's Lamplighter Festival has been made possible with funding from Todmorden Town Council, Calderdale Council, The Big Lottery Fund, Arts Council England and Community Foundation for Calderdale.