People's Assembly demonstrates against Austerity on eve of budget
Wednesday, 22 November 2017
Calderdale People's Assembly Against Austerity organised a vigil in Hebden Bridge on the eve of the budget to remember all those people killed by austerity cuts.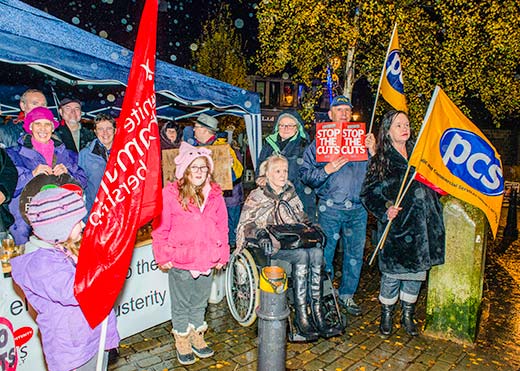 The vigil, supported by Unite Community members and members of the Public and Commercial Services Union, highlighted how welfare reforms were causing hardship and even death among the most vulnerable in society. Those attending lit candles as they read out the names of people on Callum's List Callum's List and Peter's list who have died as a result of the Government's cuts to welfare, particularly the harsh Work Capability Assessments, where seriously ill people are deemed to fit to work or face having their benefits stopped.
Leafleting passers-by, the People's Assembly also called for an end to the flawed Universal Credit roll-out, which is leaving people destitute and hungry.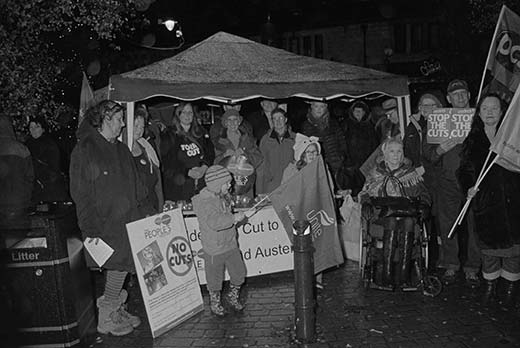 A report in the British Medical Journal last week stated that austerity cuts have led to the premature deaths of 120,000 people since 2010. The authors accused the government of 'economic murder'.
Attendees also colllected money and food for Todmorden Food Bank. Calderdale, one of the areas where Universal Credit has already been introduced, has seen a rise in food bank use since the roll-out was implemented, according to a BBC Look North investigation.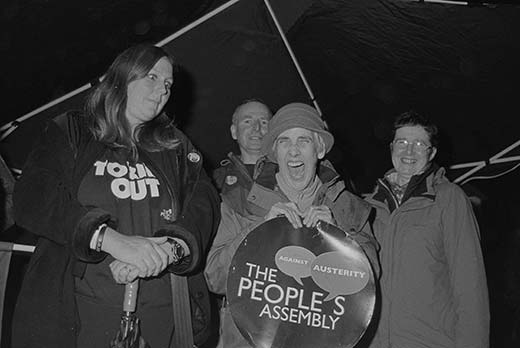 One of the speakers from the People's Assembly pointed out that the attacks on poorer sections of society were a deliberate choice by a Government that failed to tackle tax evasion, that gave tax breaks to the rich, and that could find £1bn to give to the DUP to maintain a parliamentary majority.
The People's Assembly called on people to join it in fighting back against the cruel austerity agenda.
The People's Assembly in Calderdale meets on the second Monday of the month in Hollins Mill Pub, Hollins Mill Rd, Sowerby Bridge HX6 2QG, or to check out its Facebook page. For future activities and demonstrations.  They also urged people to write to their local MP.