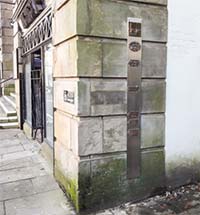 Hebden Bridge Flood Marks
Friday, 24 November 2017
Hebden Bridge Local History Society has commissioned a set of flood marker plaques commemorating the major floods which have occurred in Hebden Bridge during the past century, following a proposal by Paul and Diana Monahan. Hebden Royd Town Council contributed towards the project and also offered a site for the installation on the side of the Picture House. This is particularly suitable as it is one of the lowest places in the centre of town.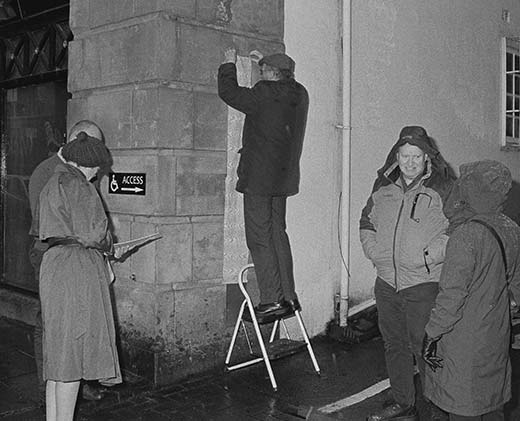 The commemorative marker comprises a backing plate of brushed stainless steel with cast bronze plaques mounted upon it. The materials were chosen to offer durability, with the bronze ageing to a deep patina. The design is deliberately austere and reflects the engineering traditions of the town. It incorporates the logos of HRTC and of Hebden Bridge Local History Society, and a direction arrow for the emergency flood equipment store, as well as the water level plaques. These are based on a design commonly used in the late nineteenth century for registration plates on canal boats. 

Paul created the artwork for the plaques, and then commissioned the patterns and plaques from a specialist foundry. Design, layout and final manufacture are by Paul. Installation was arranged by Hebden Royd Town Council . The levels are marked as accurately as possible; the 2000 level was noted precisely at the cinema by Paul, who was Town Mayor at the time, and later transferred by theodolite to an original stone gatepost at Moyle's which had the 1946 mark upon it. The 2012 flood marks were also noted on that gatepost and the 2015 flood high water mark was obtained directly from the cinema.
Paul and Diana said, "We wanted to see a permanent record of those times when the town was flooded so badly; the design will allow plaques to be added, but we hope this will never be needed."
The flood marker was unveiled jointly by the Mayor of Hebden Royd, Cllr. Pat Fraser and the President of Hebden Bridge Local History Society, Barbara Atack, on Thursday 23rd November 2017 at 1.00 pm.