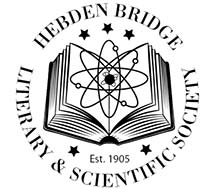 Judith Weir Lecture Report: A Composer's Life
Wednesday, 29 November 2017
Judith Weir is one of the country's leading composers and was appointed to the ancient office of Master of the Queen's Music in 2014. Part of her role is to bring a greater awareness of music to the wider public, and her talk for Hebden Bridge Literary and Scientific Society made clear her conviction about the importance of music as she opened a window onto a composer's life.
She began by considering 'composer' as a job title, looking at the woman considered the first named 'composer' Hildegard of Bingen, and at how for many famous composers the arrangement and creation of music was often an intrinsic part of their main job as church or court musicians. Bach for example was employed by churches and many of his compositions were written for them. Mozart and his family were touring musicians who also relied on wealthy patrons, as did Beethoven, though he was very much composing on his own terms. Women composers such as Clara Schuman and Magdalena Bach were also performers whose family background gave them space to write music.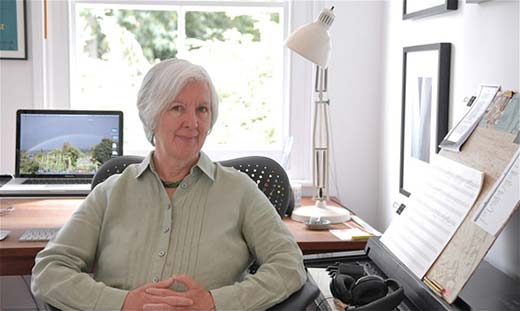 Most composers have relied on teaching to make a living, with Elgar, Vaughan Williams and Holst all being teachers. Arts Council grants in the late twentieth century made life easier for some composers, and institutions such as the BBC also commissioned new music. Now composition is seen as an academic discipline in its own right and taught up to PhD level in colleges.
For Judith Weir learning to be a composer requires a great deal of listening, which she felt modern technology made easier, and also playing an instrument, in order to learn how everything works. Time spent having fun making music with friends is as crucial as  an academic approach.  Most important was mindset – time to be alone and a driving need to compose music.
Her own route to becoming a composer grew from circumstance. Brought up in Aberdeenshire, entertainment in her family often involved groups of friends playing folk music together, so that music was always a social thing. She began writing for her own group of friends, initially as a way of avoiding being sent out to play on wet or cold days at school! The accident of having a teacher who knew John Taverner meant that she was able to meet and talk to him about the music she was composing, and that contact stiffened her resolve to make composing part of her life.
Making her living as a composer has continued to involve teaching and collaborating with others, as a community composer funded by the Arts Council, as part of the Glasgow City of Culture and as resident composer for the City of Birmingham Symphony Orchestra with Simon Rattle. It was clear that these collaborations were part of the creative process as well as a way of getting her music performed. She felt that taking commissions was in no way constraining, but involved a stimulating meeting of minds.
It was fascinating to see some of the physical evidence of her composing process in a current piece for oboe.
The first ideas are sketched in pencil, and often contain as many words as musical notation. This stage can take months, as gradually the whole composition becomes more defined – though always with tippex on hand for changes. Even when she is playing sections at the piano the eraser is close by. Eventually there is enough certainty to move to an ink copy which her long standing editor will then work with until a computer programme produces the different parts for the orchestra. At rehearsals there is a chance to refine further, with the precious advice of the musicians.
Working with others is absolutely part of the creative process, but Judith also stressed the need for time and space alone allowing ideas to emerge and develop. While skills can be taught, there is something at the heart of a composer's life: the need to create music which is outside the scope of teaching.
The audience at Hebden Bridge Waterfront Hall felt privileged to be allowed these insights into a composer's life and to hear parts of two of Judith Weir's compositions, a choral piece Maria Regina Celorum and a lovely violin duet Atlantic Drift, originally written for children.
With thanks to Sheila Graham for this report

Download programme - PDF
Previous Lit & Sci reports on the HebWeb
HebWeb News -Lit & Sci lecture report - Before the Big Bang Oct 2017
HebWeb News - Lit & Sci Meeting Report. Inequality and Social Anxiety: speakers Kate Pickett and Richard Wilkinson Feb 2017
HebWeb News - Lit & Sci Meeting Report. Dr Nicholas Cullinan: Picasso's Portraits Dec 2016
HebWeb News - Lit & Sci: Report of talk by Sir Mark Elder Nov 2016
HebWeb News - Lit & Sci lectures 2016-2017 Sept 2016