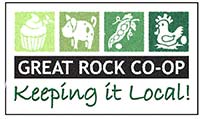 Great Rock Co-op Christmas Markets
Friday, 1 December 2017
This December, Great Rock Co-op's Christmas Markets will showcase local artists and artisans every Saturday (10am – 2pm) at Staups Lea Farm, Staups Lane, Blackshaw Head, OL14 8RR. This year the Co-op will be packed with superb food and crafts, a café, kids activities and everything you need for a sustainable Christmas!
The shop, owned and run by its suppliers and customers, is dedicated to providing great locally produced food and craft to the community around Blackshaw Head and the Upper Calder Valley. The Co-op is located just round the corner from the famous landmark of its namesake – The Great Rock – where Eastwood Road meets Staups Lane. It's a beautifully scenic spot locally known for epic landscape views of Calderdale.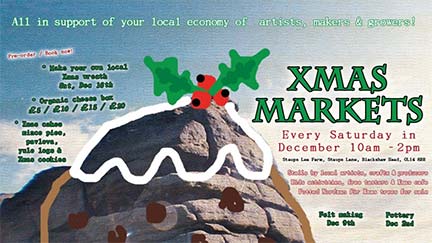 In store this year at the Christmas markets:
Get your Christmas baking sorted with Josi from Craggs Cakes supplying Christmas cakes (6" £19 / 8" £25), mince pies, Yule logs, pavlova and Christmas cookies. You can also pre-order an organic 'Pextenement' cheese box (£5, £10, £15 or £20). Christmas turkeys from 'Loose Birds' are also available to order in store (deposit required) - order while stocks last!
Free tasters will also be on offer from local producers 'Pennine Preserves', 'Craggs Cakes' and 'Pextenement cheese', with a chance to meet the producers behind the famous local products. Alongside the Co-op's regular local producers, look out for stalls from Tod Studios and the Nova Collective – a collective of young artists based in Hebden Bridge.
Get crafty and book to 'make your own' locally-sourced Xmas wreath with Sally from 'Kingfisher Flowers' on Saturday 16 December (£15). If you fancy your skills as a potter, come along to the pottery-throwing demo on Saturday 2 December from local potter Gary Thomas. Or you can learn how to felt at Jo Gornall's felt making demo on Saturday 9 December. 
If you are you looking to be environmentally friendly this Christmas, why not buy a 'Nordman Fir' potted Christmas tree from Louise Woollett, who grows this beautiful variety just down the road from Great Rock Co-op in an effort to improve environmental regeneration.
And to keep the kids occupied, the Co-op will host fun-packed craft activities every Saturday, so you are free to sit and relax in our Christmas café and enjoy the incredible food and craft the Co-op has to offer.
To order your produce get in touch with us at info@greatrockcoop.co.uk or give us a call on 07759 801509 (Line open Saturdays 9am - 3pm).
You can also find us on Facebook and Twitter, as well as  at our website to find out more about the Co-op and to become a member.