Dave Nelson's Christmas Singalong
Sunday, 3 December 2017
You're invited to start the Christmas weekend in festive style at Hebden Bridge Town Hall when local pianist Dave Nelson presents his annual Christmas Singalong on Saturday 23rd December from 5pm. Tickets are now on sale on weekdays at Hebden Bridge Town Hall and 24/7 online here.  As usual the Café will be open for mulled wine, mince pies and other festive treats.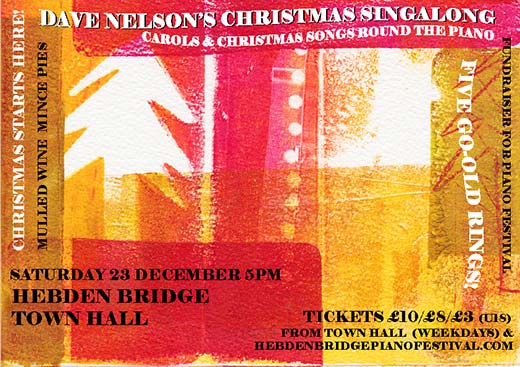 It'll be warm and Christmassed up to the nines in the Waterfront Hall, a perfect setting for singing all those favourite carols and Christmas songs, including the obligatory, choreographed and very raucous rendition of The Twelve Days of Christmas. Rumour has it they can hear 'Five Go-old Rings' in Todmorden!
Wainsgate Waits will put in an appearance with some beautiful four-part arrangements of well-known (and less-so) carols and there are a couple of surprises in store. 

"It's great to be able to have the Singalong the day before Christmas Eve, it makes it really special", said Dave "Get those tickets quickly, as this event usually sells out"
Dave is the Artistic Director of the Hebden Bridge Piano Festival and all profits from the show will go towards next year's Festival which starts on April 20th.