History Society Report
From Crime Scene to Holiday Camp: Stories of Hawdon Hall
Speaker: Freda Kelsall
Tuesday, 19 December 2017
As she explained to Hebden Bridge Local History Society, the first thing that Freda Kelsall had to contend with when she purchased the property near Hardcastle Crags, was the tangle of names that attached to the place: Howden or Howdon – Hole, Hoyle or Hall? But as well as its varied names, the house came with many stories that have fascinated Freda ever since, most famously the Hawdon Hall murder.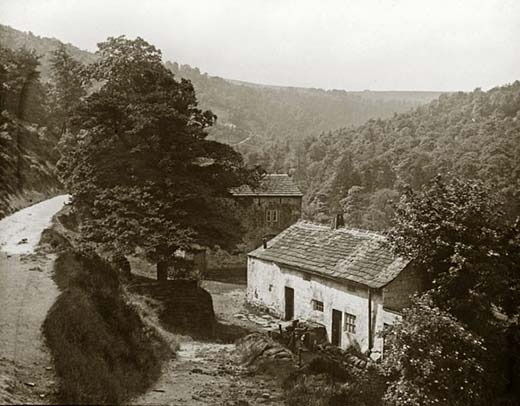 The property was mentioned in documents from 1631 and was probably two cottages and a barn. Features in the landscape show some of the ways in which the occupants worked, with signs of enclosures used for pasture, and charcoal burning in the woods. As with many Calder Valley farms, textile production came to dominate, first at home and then at the nearby Gibson and New Bridge Mills.
The story of the notorious murder unfolded in 1817. The two cottages were occupied by Samuel Sutcliffe (Sammy o'Catties) a clothier, who lived with his nephew William Sutcliffe, and by William Greenwood, a weaver. A frequent visitor was Michael Pickles, (Old Mike), a beekeeper who was known for his strong religious views, but also for his large strong hands, big feet and a habit of milking other people's cows. The final character in the sad story was a younger man, John, known as Joan o' Bog Eggs, who complained to Pickles about his need for money.
It seems that Old Mike came up with the plan to rob Samuel Sutcliffe while his nephew was away -  the fact that Sammy used a pound note as a bookmark in his Bible apparently confirming that he had more money than he needed. The robbery went wrong when Sammy woke and called out. In silencing him, Old Mike killed him. They left with money and goods, including a pair of shoes and a Mytholm bank note, which as it had not been signed had been pinned into an account book. A large footprint left at the scene pointed towards Old Mike, and the younger man incriminated himself by trying to pass the bank note marked with pin-holes and by taking the old shoes to be mended. Eventually both men were arrested, found guilty and executed in York.
The place became notorious, but it didn't stop those who lived there from getting on with their lives, and a complete turnaround in the mood of the place came about a century later, when a young William Holt, looking for new challenges after his war service, had the idea of opening a holiday camp and tea gardens. By this time Hardcastle Crags was attracting hundreds of visitors, and for a short time the house was filled with camp beds which Billy had bought at bargain prices after the peace made them redundant. Photos show tennis being played on what must have been the only flat surface, and the mill dam provided opportunites for bathing.
It was clear from her talk that Freda loved Hawden Hall, which has now enjoyed thirty five years of creativity and conviviality during her time there.
Talks to the Hebden Bridge Local History Society resume at Hebden Bridge Methodist Church on Wednesday January 10th  at 7.30, when in a change to the published programme, Julia Maybury will talk about Women and Girls in the Upper Calder Valley: Recognition, Resilience and Reward in World War 1. All are welcome.
With thanks to Sheila Graham for this report

Details of all the Society's activities can be found on the website  and you can also follow us on our Facebook page.
See also