History Society Report
Women and Girls in the Upper Calder Valley: Recognition, Resilience and Reward in World War 1
Speaker: Julia Maybury
Sunday, 14 January 2018
Hebden Bridge Local History Society member Julia Maybury was inspired by the activities planned to commemorate the centenary of the First World War to explore the roles of women and girls at the time, searching Hebden Bridge and Halifax newspapers, listening to some fascinating oral history recordings and using the evidence of old photographs to discover stories that have often been disregarded. She wanted to discover the answer to a simple question -  what happened to the sisters, wives and mothers of the men who went off to war?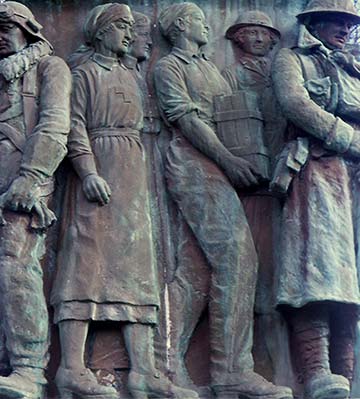 Society had clear ideas about the distinct roles of women and men: men were expected to protect and provide, while women were seen as nurturing and focusing on homemaking. The men who responded to the call to war were fulfilling the duty to protect, and women were at first called upon to support men in this, as seen in a poster of the time 'Women of Britain Say Go'.
Gradually it became clear that a second army of women needed to be mobilised to sustain their communities and families by taking on more work outside the home, as well as in extending their nurturing roles in demanding fields such as nursing. Although at first there was some resistance to this, there was also a growing recognition that women were well able to contribute in areas beyond traditional caring and homemaking.
Julia focused on the resilience that women and girls showed in responding to the call for women to do their bit. Local girls from the age of 12 or 13 were already working in textile factories and sewing shops which locally began producing khaki for soldiers and duffle coats for sailors. Existing volunteer sewing circles could also be extended to meet these needs. More significantly however, women were called upon to work in munitions and engineering factories – the former especially involving considerable dangers to health. One photograph showed staff at the Ormerod Engineering Factory which included women and girls, and in other local factories up to half the workforce was female.
Field Marshall Haig recognised that working class women were making a huge contribution and called upon middle class women to join them in the battle against Germany. Many turned to nursing and voluntary work. Women were at the forefront in staffing new convalescent hospitals such as those in Todmorden, Cragg Vale and Mytholmroyd, both as volunteers and as qualified nurses, but were also at the heart of managing and fund-raising, taking on responsiblities traditionally belonging to men. Local women were also among those who volunteered to serve as nurses abroad, close to the front in France, but also in Malt, Egypt, Mesopotamia and India. For several local women their efforts were acknowledged when they were awarded Red Cross Medals and mentioned in dispatches. Some letters home reveal the dangers and the horrors that the women shared, speaking poignantly of the many injured and gassed, and also of compassion for wounded German soldiers.
While it was explicitly understood that this was just 'for the duration' – when war was over it was expected that everything would revert to normal – there were repercussions and rewards for women and for society which grew from the necessities of war. Some people worried about the future when women had stepped so far from their traditional gender roles. One church minister wrote of his worries about the morality of working class young women who had licence to behave as they liked, citing the 'ribald laughter' on the buses as evidence. But women had gained considerable expertise and a more prominent civic role, for example in Trades Unions and political parties, which continued in the post-war world.
There is a sad lack of recognition of the part women played in the war effort in the official memorials that were later commissioned, although a few war memorials in Lancashire do depict women in various roles. One tangible reward for women was the granting of limited suffrage when the war ended. It was entirely fitting that Julia shared her detailed and painstaking research at the beginning of this year which sees the centenary both of the end of the war and of the granting of votes for women.
The next meeting of the Hebden Bridge Local History Society will be held on Wednesday 24th January at Hebden Bridge Methodist Church, when David Cant will talk about how parish records reveal interesting ideas about population in the parish of Halifax between 1539 and 1670. All are welcome.
With thanks to Sheila Graham for this report

Details of all the Society's activities can be found on the website and you can also follow us on our Facebook page.
See also