Less than a Year
by Peggy Thomas
Wednesday, 17 January 2018
"Children are individuals and should be treated as such"
Senior management in a fictional London school claimed to believe this.
So why did Peggy Thomas get in trouble when she put it into practice?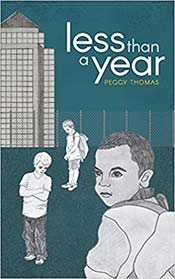 The answer is revealed in Peggy's account of working in an East End school. She told the HebWeb a little about herself an the book.
Peggy started out in the States in 1942 and moved to the UK in 1963 and has lived in Hebden Bridge for over six years with her partner Catherine in their underdwelling.  Above them is Peggy's daughter Katherine and her family.  
So how did they all wind up in Hebden Bridge? Nearly 25 years ago, Katherine was travelling up north looking for somewhere to settle.  When the train stopped in Hebden Bridge she liked the look of it so that's where she stayed. When the underdwelling became vacant, Peggy and Catherine joined them.
Less than a Year is about my experience of teaching in the East End of London in 1991-1992. "There's a clue in the title as to how long I lasted, Peggy told the HebWeb. "I have tried to show what actually went on in the classroom.  By focusing on children I have given a unique close-up view of school life.  Too many teachers write about their own life in the school, i.e. 'I teach this and this is how I do it.'
"I looked at children.  Among other things, I saw how bad behaviour is created by teachers.  I saw the scapegoating process in painful detail."
Less than a Year will be of interest to anyone who is involved with a school or whose school memories are vivid.
Two readers have given the book five stars on Amazon. One wrote, "A fascinating, detailed and painfully honest account of an idealistic teacher's first placement in a 1990's London primary school. I did not want to put this down - the reader becomes totally involved in the vividly drawn life of the school, and the gradual unravelling of the narrator's optimistic aspirations and sense of common purpose is compelling right up to its bittersweet ending. A great read!"
Peggy added, "The book group of the Good Shepherd (Mytholmroyd) chose  to read my book and we had a spirited discussion about it.  I would be glad to discuss it with any book club in the area.  
It's available at the Book Case and online as a paperback or e-book.
Peggy can be reached at stablegate@wilinsky.com