Thursday, 18 January 2018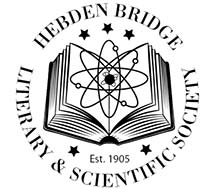 What role for Auntie today?
Forthcoming Hebden Bridge lecture will examine the BBC's role 
Speaker: Dr Tom Mills
27 January, 7.30pm, Town Hall
Dr Tom Mills, author of a recent analysis of the BBC and a lecturer in sociology at Aston University, will give the latest in the current season of Hebden Bridge Lectures in Hebden Bridge Town Hall on Saturday 27 January. He will explore the role which the BBC plays in British society and whether it operates as a public service or is implicitly a part of the political establishment.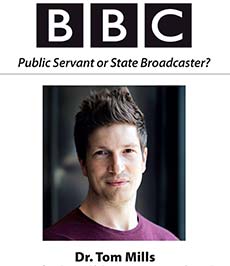 Given recent public debate about the BBC, Tom Mills' lecture could hardly be more timely. The broadcaster, seen by many as a jewel in British cultural and social life, is still on the back foot after revelations that it pays male broadcasters much more than their female counterparts. It has come under attack in recent years from the Murdoch press and from some on the political right who want more opportunity for private sector business in broadcasting. But the BBC has also faced critiques from the left, from those who accuse it of being aligned with an economic and political orthodoxy now widely discredited.
At a time when social media and live streaming are transforming the world of broadcasting and when fake news is making the headlines, what role should the BBC play in the life of the country?
Tom Mills' argument is that BBC's present problems stem from the disintegration of a governing consensus and a more general crisis at the heart of the British establishment. If the BBC is to live up to its proclaimed values, he maintains, real structural reform is needed – change which will not only allow the BBC to operate with substantive independence from the state and commercial interests, but also to compete with the media and tech giants that pose a serious threat to our democracy.
Frank Woolrych, President of Hebden Bridge Literary & Scientific Society, says: "We're delighted that Tom Mills is making the journey to the Calder valley to discuss what is clearly a very important issue for our time. We are sure that his lecture will be thought-provoking and stimulating, and as usual at our lectures there will be plenty of times for questions and discussion."
Tom Mills' talk is the third in the Autumn and Winter series of lectures arranged by the Hebden Bridge Literary and Scientific Society, an organisation which traces its roots in the town back to 1905. The Society has also announced arrangements for its final lecture of the season, on Saturday March 10th, when Prof Tony Freemont will discuss the growing ability in medicine to treat ill health and disease at molecular level. Prof Freemont's lecture, previously scheduled to be held in December, had to be cancelled at short notice because of heavy snowfall. Melvyn Bragg's lecture on William Tyndale, originally due for March, has had to be postponed by the speaker for personal reasons. We hope he will feature in the Autumn 2018 series of lecturers.
Tickets for the lecture are on sale in Hebden Bridge Town Hall, where the event takes place. Doors open at 7pm and the bar will be open from 6.30pm. Tickets can also be reserved by telephone, on 07860 164422.

Download programme - PDF
Previous Lit & Sci reports on the HebWeb
HebWeb News - Lit & Sci lecture report - Judith Weir: A Composer's Life Nov 2017
HebWeb News -Lit & Sci lecture report - Before the Big Bang Oct 2017
HebWeb News - Lit & Sci Meeting Report. Inequality and Social Anxiety: speakers Kate Pickett and Richard Wilkinson Feb 2017
HebWeb News - Lit & Sci Meeting Report. Dr Nicholas Cullinan: Picasso's Portraits Dec 2016
HebWeb News - Lit & Sci: Report of talk by Sir Mark Elder Nov 2016
HebWeb News - Lit & Sci lectures 2016-2017 Sept 2016