Update: the Yorkshire Post reports that "A controversial move which could have resulted in the closure of Hebden Bridge and Halifax Visitor Centres will not be recommended as a saving in Calderdale Council's budget plans. (14 Feb)
Hebden Bridge Visitors' Centre threatened with closure
Friday, 2 February 2018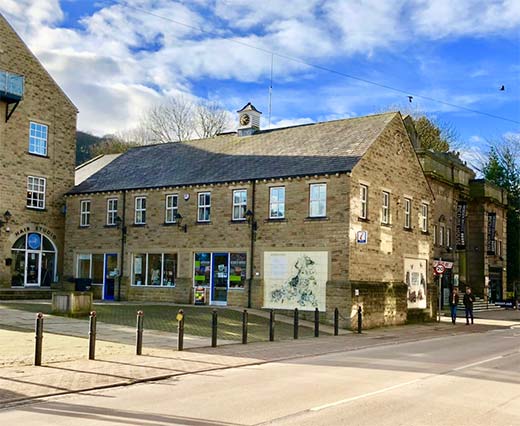 Calderdale Council is seriously thinking about closing Hebden Bridge Visitors' Centre in order to save money. Hebden Bridge Calderdale councillor, Dave Young has spoken out against any closure but told the HebWeb that "due to the vicious Tory Cuts, over the last 8 years Calderdale Council have had to cut our budget by £100m."
Visitors would have to find information online, although "limited info" would be available in Hebden Bridge Town Hall.
The Calderdale Council "Growth Proposals" paper states that Hebden Bridge Visitors' Centre "is in rented premises and so would require a break of the lease.
"There would need to be consultation with public/ staff/ Trade Unions and appropriate HR processes. Closures could take place from October 2018."
The HebWeb wrote to local councillors asking for more information and for their views on the threatened closure.
So far the HebWeb has heard back from Cllr Dave Young who said, "As you are aware due to the vicious Tory Cuts over the last 8 years Calderdale Council have had to cut our budget by £100m.
"As such we have had to look at every service we deliver to the residents of Calderdale and have to make some unpleasant decisions.
"We discussed the potential savings re Hebden Bridge & Halifax Visitors Centre at our Place Scrutiny Panel on Wednesday 24th January 2018.
"The Savings we need to achieve is £50k for 2019-2020 & £50k for 2020-2021 in this service
"We have time before these budget cuts are needed to be brought in and the Officers are looking at alternative ways of Service Delivery.
"But I spoke against the possible closure and transfer of Hebden Bridge Tourist Centre to Hebden Bridge Town Hall as we are a Tourist Town and, in my opinion, the jewel in Calderdale's Crown and is a much needed facility in our lovely town."
Update - Monday, 5 February 2018
Comment from Hebden Bridge Walkers Action
Hebden Bridge Walkers Action's has told the HebWeb that although making savings in tourism may be inevitable, the current proposals are unclear and do not make any sense. They are therefore asking for a pause and consultation with organisations involved in the local Visitor economy.
To see a copy of the HBWA response, see this page on the HBWA website.
Any suggestions or comments are very welcome by Walkers Action.