Wendy wins Festive Fandango hamper
Thursday, 8 February 2018
Wendy Siddiqui was the winner of the Festive Fandango hamper packed full of goodies from businesses who backed the scheme designed to boost footfall for Hebden Bridge and Mytholmroyd's local traders.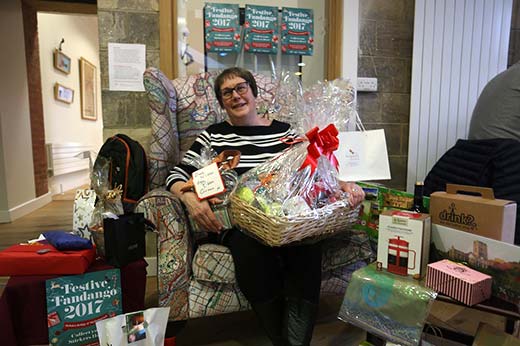 Wendy had come over from her Brighouse home to fill in her Festive Fandango reward card in the scheme where she got a sticker for every fiver she spend in local businesses in December, and after handing in her completed cards she was entered into a prize draw for the hamper.
"I love coming over to shop in Hebden Bridge and Mytholmroyd as the local businesses are so distinctive, and I always make sure I fill in my Festive Fandango card," says Wendy.
This year with the support of keen shoppers like Wendy who want to support independent traders it was another record year for the Fandango scheme. Almost 700 completed cards were handed in pumping in around £30,000 to the local economy during the critical pre-Christmas period for traders.
That record number was boosted by traders in Mytholmroyd who joined in for the first time thanks to generous support of Hebden Bridge Business Forum and Hebden Bridge and Mytholmroyd Development Board. This year the scheme was run by Hebden Bridge Arts Festival who presented the hamper to Wendy at the Town Hall.
"One of the great things about the Festive Fandango is it brings in shoppers from outside Hebden Bridge and Mythlomroyd into Calder Valley to shop," says Arts Festival Artistic Director Helen Meller. "It was a real pleasure to meet Wendy who came across from Brighouse to fill in her Fandango card because she loves our unique local businesses.