Midgley Pace Egg Play - update
Friday, 21 February 2018
Thank you everyone who responded so positively about this year's production of the Midgley Pace Egg play.
We hadn't realised that the play had been produced by a satellite group for the past three years. The local history societies were just concerned that the tradition might not continue.
To this end, we are getting together to see if we can form a group of interested people who will undertake the production of the play in the future.
Rodney Collinge who, as a teacher at Calder High, produced the play for many years and Chris Coe from Ryburn 3 Step who has made the costumes in the past are meeting at
Hebden Royd Methodist Church, Market Street, Hebden Bridge,
Thursday 1st March at 7.30pm.
If you have any interest in becoming involved, either in taking part, making costumes and props or offering transport (on Good Friday) please come along and join us.
If you are unable to come to that meeting and wish to offer help, please contact Rodney on 01422 885141 or myself, Barbara Atack.
A big thank you to the Methodist church for offering the venue free of charge.
---
Midgley Pace Egg Play under threat
Friday, 16 February 2018
Help is needed to ensure that the Midgley version of the play will continue.
This year, after 66 years of performing the Midgley Pace Egg play in the streets of the Calder Valley on Good Friday, Calder High School have opted to break with the tradition and not perform it this year. The play, in which St. George, representing goodness, fights and slays his opponents, is the best known folk play not only in England, but worldwide, and visitors come to Hebden Bridge to watch it from all over the world. It has now been continuously performed in the Calder Valley each Easter for almost 250 years. In comparison, the next longest is under 100 years. It would therefore be a tragedy for the district if this tradition were to cease.
New organisation proposed - players needed
It is proposed, therefore to set up an organisation which will see it continue to be performed as usual. This year, Rodney Collinge, who directed the play for almost 20 years when he was teaching at Calder High, is going to direct the performance again, but needs players to perform in it. He is asking that anyone who has performed in it in the past and who would be prepared to do so again (or indeed, anyone who would be prepared to perform if necessary) should contact him via telephone on 01422 885141 in the next 3 or 4 days. It is hoped that rehearsals can then start shortly afterwards.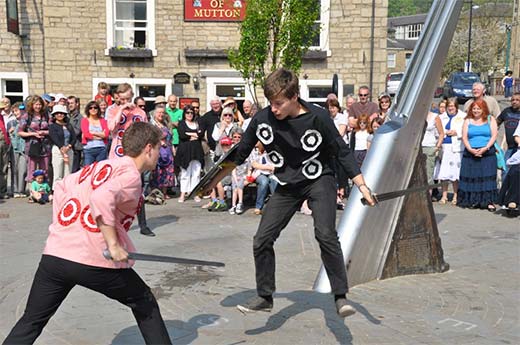 The Heptonstall version of the Pace Egg Play will continue this Good Friday as normal.
See also
HebWeb Feature on The Pace Egg plays