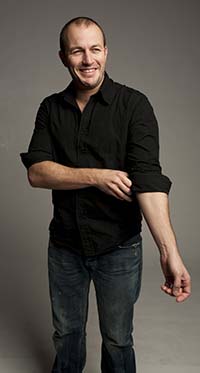 Perrier Award Winning Comedian at Comedy Club
Friday, 16 March 2018
Sunday 18 March
Old Gate Bar and Restaurant
Acerbic Australian comedian Brendon Burns has many claims to fame, winning comedy's most prestigious award and being the only comedian to receive a six star review from Time Out magazine are just two of them. Coarse yet oddly eloquent, he remains fully accessible and intensely lovable. Never pompous and ever self-deprecating his influence is ubiquitous throughout the stand-up world.
"I think it's got the stage now where we can officially call Brendon Burns a legend" Evening Standard
Former member of improv comedy group The Noise Next Door, Tom Houghton is a natural comic talent. He is also a fully paid up member of the British upper class. His father ran the entire UK armed forces and he currently lives in The Tower of London! Funny and charming, with roguish tales and hilarious songs, Tom Houghton is star on the rise.
"The long awaited male answer to Bridget Jones" Daily Telegraph
"Clever, passionate and soulful" New European
Dundee's Paul Pirie comperes for the evening and Irish/ Egyptian comedian Zahra Barri completes the bill.