24 hour defibrillator at Town Hall
Wednesday, 21 March 2018
The team at Hebden Bridge Town Hall have unveiled their new defibrillator that can be used in an emergency 24 hours a day, all year round.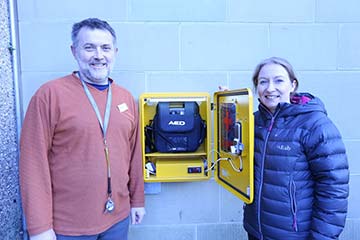 Next to entrance
The easy to use defibrillator sited next to the St George's Street entrance at the Town Hall is designed to help people with life threatening cardiac dysthymias, and can be accessed via a code.
Donated
It was paid for via a donation from the family of Christopher and Sheila O'Brien as well as a £500 grant from Calderdale's Calder Ward Forum fund.
Town Hall Executive Director Graham Mynott said: "Christopher O'Brien was a popular Mayor of Hebden Royd, so the donation continues his family's commitment to our community, and we are grateful for the ward forum's support.
Other defibrillators in town
"There are already defibrillators at One Stop, the Co-op and The Picture House, but we decided we wanted to mount it outside our building so it could be used whenever there was a life threatening emergency, which can happen at any time. We have trained our staff to use it when our busy building is open as the speedy deployment of a defibrillator does save lives."
Training
As well as training their own staff to use the defibrillator Hebden Bridge Community Association, who run the Town Hall, teamed up with local first aider trainer Amy Gault from Splat Training to run a free first aid awareness / training open day.
Amy showed local people how to use the defibrillator so they would know what to do if faced with a medical emergency. The Town Hall is also home to many of the town's annual festivals so some of their volunteers joined  a formal defibrillator/CPR  training course run by Amy.
The free sessions were part of the Town Hall's commitment to increasing the town's resilience as the Association is hoping to offer more public training in first aid and also exploring mental health issues, and dementia awareness as their staff and volunteers are now fully trained Dementia Friends.