Midgley Pace Egg Play
Wednesday, 28 March 2018
Despite trials and tribulations and the split from Calder High School, the performances are continuing, with some support from the Hebden Bridge History Society. The boys are determined that the tradition continues, and have, over the past few years, been rehearsing and performing with little and last year, no support from School.
Despite rumours to the contrary, and with the support of the Hebden Bridge Local History Society, the boys are back in town! Former pupils of Calder High School once again continue the tradition of performing the Midgley Pace Egg through the ancient settlements of the Upper Calder Valley to entertain the crowds and raise funds for Charity.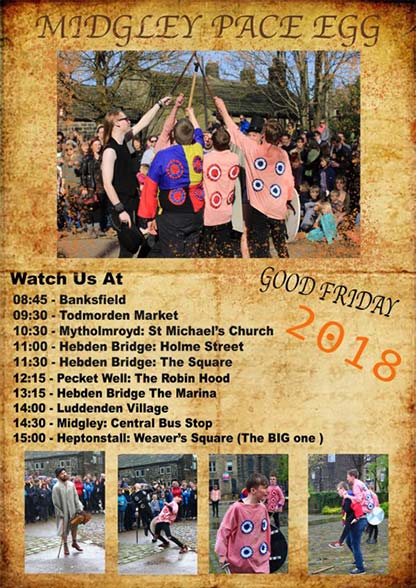 Passed down through generations by word of mouth, the Pace Egg play is a popular Good Friday tradition, symbolising the emergence of Spring and its victory in battle over Winter. In the Midgley version the players comprise; a Fool, St George, Bold Slasher, Doctor, Black Prince, King of Egypt, Hector, Toss Pot and the Bugler. Sword fights, Drama, Lost love (well...a missing wife...), the Pace Egg has it all! Better than any Soap Opera!
The players will perform at nine sites up above and along the Upper Calder Valley, with the final 'BIG ONE' up at Weaver's Square, Heptonstall at 3:00pm. 
Come along and support the players, cheer on your favourite Hero or Villain, have fun and help them raise a few gold coins for Charity. 
Performance Times
08:45 – Banksfield
09:30- Todmorden Market
10:30 - Mytholmroyd: St Michael's Church
11:00 - Hebden Bridge: Holme Street
11:30 - Hebden Bridge: The Square
12:15 -  Pecket Well: The Robin hood
13:15 -  Hebden Bridge: The Marina,
14:00 - Luddenden Village
14:30  - Midgley: Central Bus stop
15:00 – Heptonstall: Weaver's Square.
See also:
HebWeb Feature on the Pace Egg Play
Photos from the 2017 Pace Egg play
Midgley Pace Egg Play - recent news