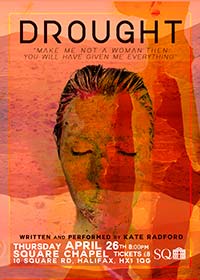 Kate Radford aims to end the Drought
Tuesday, 3 April 2018
Hebden Bridge based multi-disciplinary artist Kate Radford premieres her new solo show Drought at Halifax Square Chapel on Thursday 26 April.
Drought looks back to ancient Greece where Caenis, daughter of Elatus and Hippea of Thessaly, was the most beautiful of all the maidens. She was made more beautiful by equal measures of charm and knowledge before God of the Sea Poseidon takes her and changes her.
But the master of waves does grant her one last wish to be transformed into a man, so as never to suffer again, and Drought is a modern retelling of this long forgotten tale.
Radford uses electronic music, digital landscapes and experimental prose to give a voice to a voiceless character asking how long will these atrocities happen to women in stories? Radford thinks it's time for women to write their own mythology and end this Drought.
Her solo performances are semi-autobiographical using her own life as a canvas to draw stories and bring elements of the female experience alive.
Radford's work targets issues directly affecting women, and women's rights, and has supported multiple women focused charities and organisations including Womankind Worldwide, WomenCentre and Femin(h)ism, as well as fundraising over £3,000 for these organisations through performances.
Kate Radford has worked with The West Yorkshire Playhouse, Manchester International Festival, Bred In The Bone Theatre, Chol Theatre, Contact Theatre, The Nova Collective, Burnley Mechanics, Healthy Minds, and is an associate artist for Hebden Bridge Arts Festival.
Book for Drought on 01422 349422 or online here
.