Lunchtime Live at the Baptist Chapel
Tuesday, 10 April 2018
This Saturday, 14 April 1-4pm
What a show we have for you this Lunchtime Live on Saturday 14th April, at Hope Baptist Chapel. 
Yorkshire born singer-songwriter Jack Parker has been captivating audiences all across the region. Taking influence from George Ezra, Passenger and his local folk scene, Jack combines his rustic, singer-songwriter style with powerful, emotion-driven lyrics. Using live recording technology, Jack takes his show to the next level. Featuring his own dog 'Loki' on the front cover, Jack's latest 'Wild EP' is out now, he is looking forward to sharing this with you all.
Birds and Beasts Band, display a natural instinct for memorable pop music. Evolved whilst stuck in a log cabin during a German snowstorm, the band channel their love and knowledge of animals to inform their classic sound and distinctive voice. Reflecting our own lives through the virtue and violence of the animal kingdom, these songs get under your skin.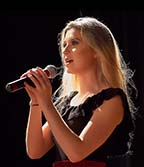 Young Performer, Saffi Rhodes will be performing tracks 'This Is Me' from The Greatest Showman and 'The Mad Hatter' from Wonderland the Musical and is looking forward to meeting the Lunchtime audiences. 

The amazing wordsmith 'Socs Blakely' will be reciting his favourite prose and poems, he just recently performed at the Royal Albert Hall and he is an inspiration to many. We are lucky to have him back here at Hope Baptist Chapel.
'The Men They Couldn't Stand' Two cheeky chappies with over 50 years of performance experience between them. Their set is a mix of upbeat dance tunes, jigs, reels, hornpipes and quirky songs often with a strong social message (but sometimes just plain daft!)
Everyone is Welcome. Refreshments are available.
Pay As you Feel. Donations to Artists.